AlloyGator launches alloy wheel care kit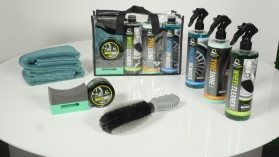 AlloyGator has launched a new wheel care kit, which it says will offer an extra income generation opportunity to complement AlloyGator fitting services. The kit has been developed alongside car care firm Angelwax. It is designed to remove baked on brake dust, dirt and road salt, while safely cleaning AlloyGator's nylon wheel protectors.
"Most drivers want to keep their alloy wheels looking good, and we see this from the number of drivers that are now getting AlloyGators fitted to their cars. We're really excited to be launching the new wheel care kit, and are extremely pleased that we can now offer our customers everything they need to protect and care for their wheels," commented Curt Rathbone, managing director at AlloyGator.
The wheel care kit contains: fallout remover, wheel cleaner, wheel wax, tyre shine, a durable alloy wheel brush, an applicator sponge and two large, high quality microfibre cloths. The products are compatible with all wheel types and combinations and are supplied in a durable, handy AlloyGator bag.
The new wheel care kit can be stocked and sold by workshops, and offers "healthy margins" at the company's recommended retail price of £58.80. The kit can also be purchased directly from the company's website.