Survey reveals different gender perspectives on car buying and driving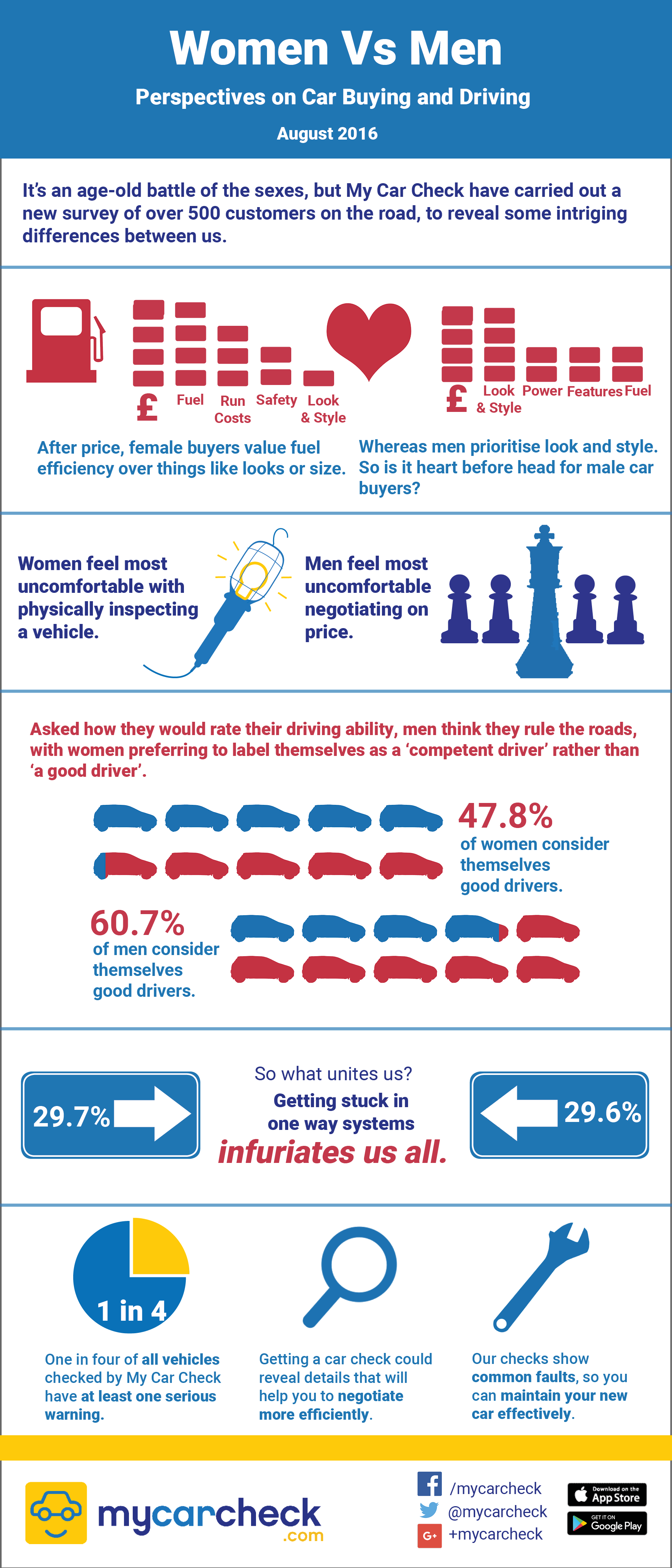 A survey of over 500 MyCarCheck.com customers (355 men and 190 women) in July 2016 has revealed some intriguing differences in male and female perspectives on motoring.
Q1. When buying a car, what is most important to you?
Female: Sale price, followed by fuel efficiency
Male: Sale price, followed by look and style
Q2. When buying a vehicle, which step are you least comfortable with?
Female: Physically inspecting the vehicle
Male: Negotiating the price
Q3. How would you rate your driving ability?
47.8 per cent of female respondents described themselves as "good" compared to 60.7 per cent of male respondents. 47.8 per cent of women said they were "competent" compared to 36.1 per cent of men.
Q4. Of all driving situations, which do you dislike most?
The top answer for both men and women was one way systems (an almost identical 29.7 per cent for women and 29.6 per cent men), followed by roundabouts.
Head of My Car Check, Roger Powell, said: "For the vast majority, price is always the most important consideration; people set a budget and then see what they can get for the money. The secondary driver is where we see clear differences along gender lines. Women are most concerned with fuel efficiency, a significant ongoing cost of ownership, while men are more concerned with image, the 'what will my mates think?' factor.
"On the scariest aspect of car buying, again, there was a clear difference according to gender. Women worried most about inspecting the vehicle, while men worried most about the price negotiation. The fact is the average buyer, male or female, won't buy a car very often and won't have great technical knowledge. In those circumstances, the sums involved can make the process stressful, and with good reason too: almost half of all used vehicles searched on MyCarCheck.com have a warning against them.
"The responses to the question on driving ability reveal some classic male bravado. Women are happy to be described as 'competent' – having the necessary ability – whereas men think 'good' sounds much better.
"The final question, on driving situations, unites the sexes. All drivers get stressed out by one way systems and roundabouts!"
With information from the police, DVLA, insurers and finance houses, My Car Check holds comprehensive data on every vehicle on UK roads – things that buyers should be aware of before making an offer.
CDL Vehicle Information Services, which owns My Car Check, performs over a million look-ups a day for companies including AutoExpress, CompareTheMarket, Go-Compare, Moneysupermarket, Swiftcover, Tesco and WhatCar?