Automechika highlights Academy sessions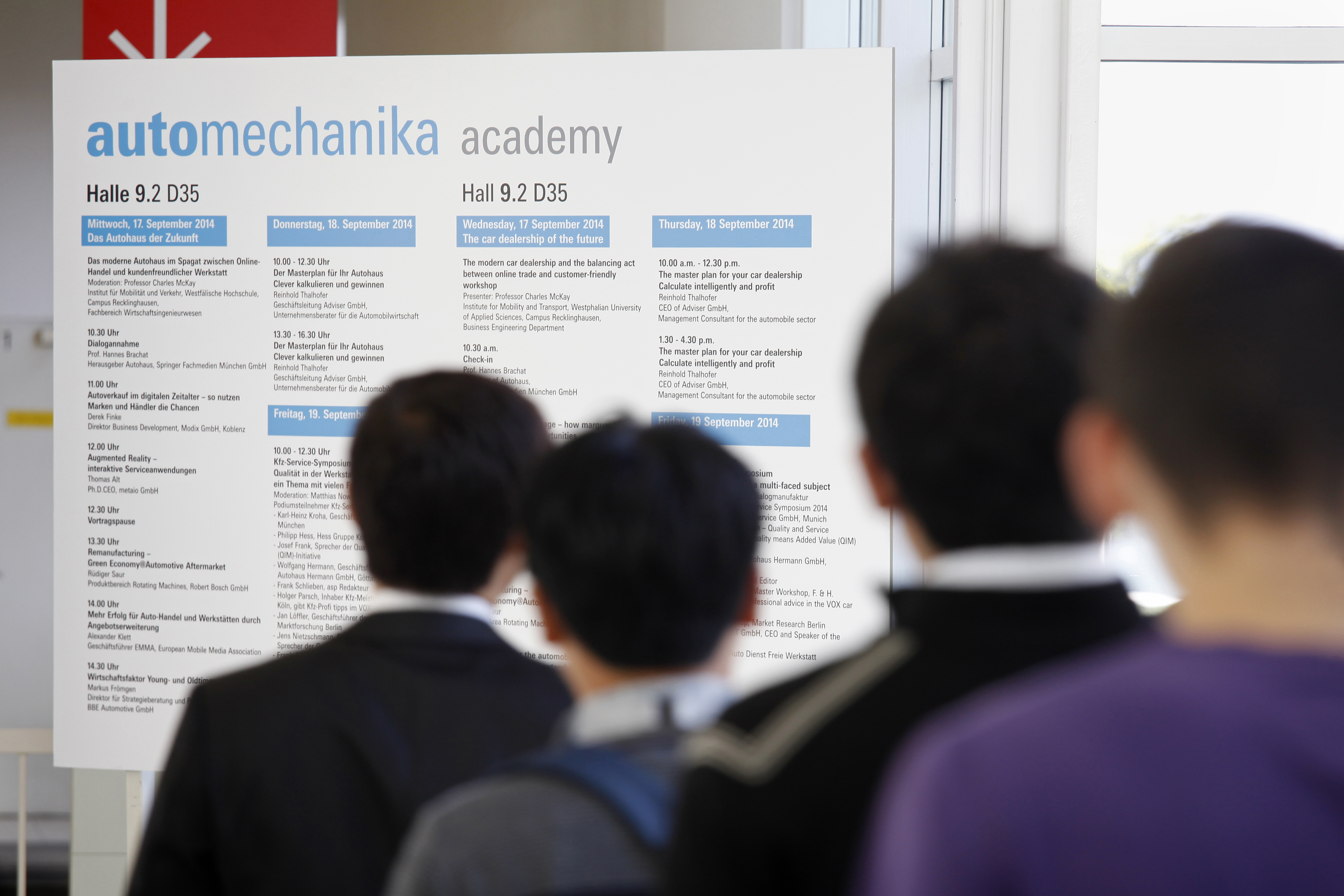 Ahead of its September show in Frankfurt, Automechechanika's organisers are highlighting Automechanika Academy. Messe Frankfurt reports that it has "spared no effort with improvements being made not only to the exhibition concept but also to the accompanying lecture and professional-development programmes". As a result, trade visitors can look forward to a full line-up of lectures, seminars and practical further-development courses. Indeed, Messe Frankfurt goes as far as saying "the Automechanika Academy programme is now of a size and scope that could easily provide the material for several supplementary professional qualifications".
To structure the large number of lectures and events, and to make it easier for visitors to choose, the programme has been split into two main tracks. In the 'Festhalle' (Hall 2), they have the opportunity to discover all aspects of tomorrow's digitalised and networked automobiles, including servicing and repairs, on 13, 14 and 16 September. The focus of the events and workshops to be held in Hall 11 and the adjoining Portalhaus from 13 to 17 September will be on everyday challenges in the modern workshop, especially the various facets of vehicle repairs in body and paint shops.
Mobility in the future
The events on tomorrow's mobility in the 'Festhalle' are split into three themed days. On Tuesday, 13 September, the speakers will risk a look into the future of mobility in ten years' time. In interesting 30-minute lectures under the motto 'Future of Mobility', 12 experts will discuss the impact digitalisation, networking and new car-sharing models are expected to have on tomorrow's mobility. Beginning at 10.00 hrs on the second themed day, 14 September, eleven lectures will present a variety of solutions and the challenges presented by alternative drive systems. The third day on 16 September is entitled 'Virtual worlds in the motor-vehicle industry' and is likely to be of particular interest to workshop professionals because several of the nine lectures examine the question of how digitalisation will affect working life in the automobile industry and the automobile service business. All lecturers on the three themed days come from the automobile industry, the parts industry, the IT / internet sector or the trade associations and are thought leaders in their companies or organisations for tomorrow's technologies. Attendance at the 32 individual lectures is free of charge and advance registration is not necessary.
Visitors who register at academy.automechanika.com by the end of August 2016 will be sent a voucher for a free day admission ticket to Automechanika 2016.