Kumho Smasher, Sealant tyres win IDEA awards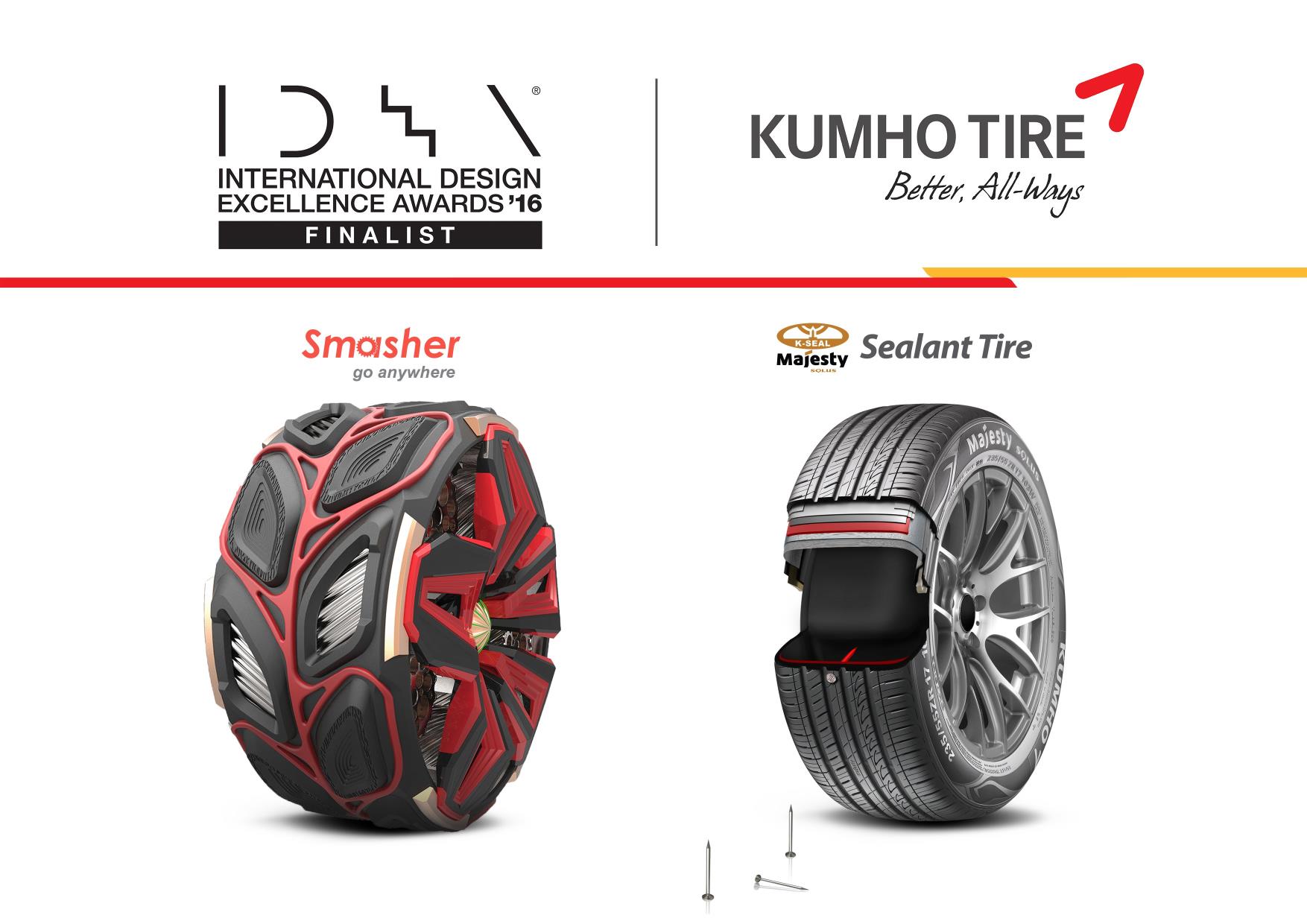 Kumho's Smasher and Sealant tyres have been honoured with 2016 International Design Excellence Awards (IDEA). The company said that the US awards, which complete a trio of the world's top three design accolades, alongside Germany's Red Dot and iF International Forum Design, mean that its design and technological capabilities have now been recognised by the industry as a whole.
The prestigious IDEA competition is co-sponsored by the Industrial Designers Society of America (IDSA) and Businessweek magazine. Kumho's Smasher – a futuristic concept tyre equipped with ultra-innovative technologies – and Sealant – a product already on sale in some markets –show that the manufacturer has an eye on both the future and present of tyre design.
The Smasher was evolved in collaboration with the SsangYong Motor Company and attracted significant attention when unveiled on the Tivoli at the 2015 IAA Motorshow. The tyre is optimised for driving in extreme conditions, and features such innovations as suction plates and grinder-shaped tread blocks. The former enable the vehicle to ascend steep slopes by creating a vacuum between the tyre and the ground, while the latter permit safe driving over even the roughest terrain by crushing uneven areas that could otherwise damage a tyre.
As the name suggests, the Sealant tyre automatically seals itself when penetrated by debris, thereby preventing loss of air pressure. The IDEA award is the latest accolade for this product; it already has Red Dot, Good Design (Japan) and Good Design (Korea) awards.
"We are very proud to now have the top three international design awards under our belt," said Chung Taek-Gyun, executive vice president at Kumho Tire and head of R&D Division, "and will continue to build our capabilities in all areas of tyre technology, including design, in order to open a new chapter for the global tyre industry."
Last month, Kumho won two prizes at the Green Good Design Awards 2016 held in the United States. They were for the Eco Sense SE11 and the Wattrun VS31 – tyres specifically designed for environmentally friendly and electric vehicles that have already reached the market in Japan and North America respectively. This is the second consecutive year Kumho has received a Green Good Design award – further recognition of its contribution to sustainability, innovation and the future environment.