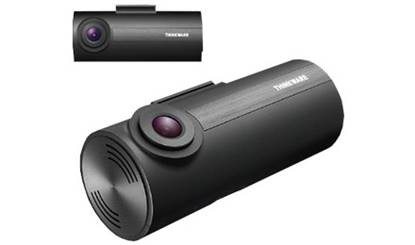 The Thinkware F50
Thinkware has announced the launch of its latest dashboard camera (or "dash cam"), the F50, which is now available to purchase in the UK.
The F50 is equipped with an Ambarella chipset and Sony Exmor CMOS image sensor that records detailed full HD 1080p video at 30 frames per second, a 130-degree viewing angle and a built in Active Impact monitoring system. The Thinkware F50 dash cam certainly fits a lot of features into its small and elegant design.
When hardwired, the F50 features parking surveillance modes with motion and impact detection triggering the recording of 20 second video clips, ensuring car, van or taxi owners are able to record incidents in parking mode for 48 hours. The built-in impact sensor, which detects the level of force when your vehicle sustains an impact, is a three axis G-sensor whose settings are different for parking mode and continuous mode. All footage is instantaneously saved to a memory card reducing potential data corruption
The dash cams are also able to work in extreme conditions thanks to the integrated Thermal Protection. If the temperature rises and exceeds a certain level, the self-protection shut down function will automatically switch off the device to protect the camera optics. In the event of power loss during an accident, the dash cam's fail-safe recording uses the super capacitor to ensure that any recordings in progress are stored securely.
When the Thinkware F50 dash cam is connected to the optional GPS Antenna it provides drivers regularly updated information on verified speed/red–light camera locations and known mobile speed traps thanks to the partnership Thinkware has with award winning camera alert specialist, Cyclops.
The Thinkware F50 allows for discreet installation due to its minimal size and black appearance. It can be placed behind the rear view mirror on the windscreen using the 3M tape so the driver's vision is not obscured. However, to fully ensure the Thinkware F50 dash cam is not a target for thieves, there is also a locking box accessory available to make its removal from the vehicle difficult. The company adds that is an attractive option for commercial vehicles in particular.
Thinkware is currently the leading brand in the competitive Korean market and its award winning dash cam devices are now available in the UK and throughout Europe. It is already experiencing strong demand as consumers increasingly see the necessity for and benefits of purchasing a dash cam from a security and cost saving perspective.
Heung Bok Lee, CEO of Thinkware states: "The Thinkware Dash Cam F50 is a model that ranks high in reliability with solid out-the-box functions such as intuitive plug and play installation, and Full HD recording.  We believe that F50 model would be an excellent summer road trip companion for recording all the special moments on your journey."
Category: Product News