Recovering infrastructure sector covered by broad Michelin range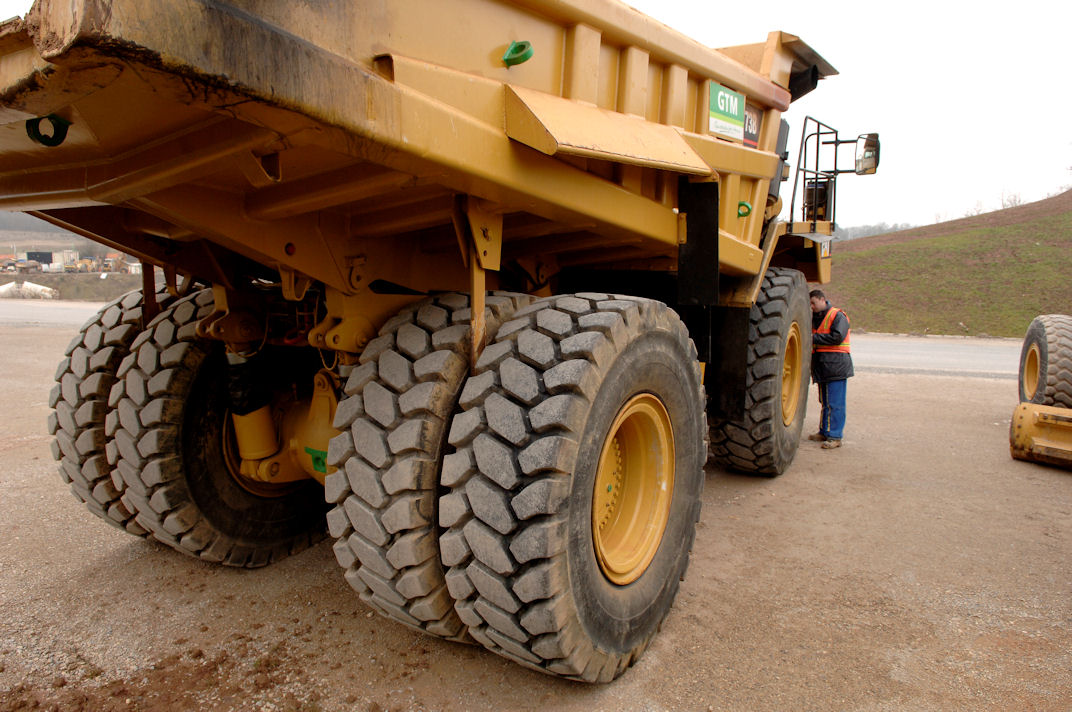 While low prices for the major commodities and metals have affected tyre makers on a global level and prompted production cutbacks for giant OTR mining tyres, the direction coal has taken is of greater significance here in the UK. British Geological Survey figures show output at British open cast coal mines fell almost 40 per cent between 2010 and 2014. This decline has understandably affected sales of tyres to this sector, yet the news is not all bad for OTR tyre manufacturers and suppliers – local demand for other off-road applications is in much better shape. Technical manager Jock Aitken recently went through Michelin's products for these areas with us, and shared how to get the most from them.
"Surface mining, and in the UK this means coal, is suffering at the moment due to the state of the steel industry and government plans to phase out coal-driven power stations, along with the use of biomass fuel at some of these stations," observes Aitken. "This means the sector that we call infrastructure is now our largest."
The most popular machine type within the infrastructure sector, he adds, is the three-axle and often all-wheel-drive articulated dump truck (ADT) commonly seen at work on housing projects or motorway construction. "Any time you have to move a lot of earth but lack the facilities to make a good haul road, then you need the versatility of a machine that has all six wheels providing tractive effort." The infrastructure segment also covers work machines and mobile cranes.
Michelin provides two tyres for ADTs, the XADN+ and the X-Super Terrain+. The first of these is an E3 tyre and features a multi-block, self-cleaning tread pattern that is well-suited to operating on soft and/or muddy soil. Michelin claims the new tread compound used in the XADN+ gives it eight to 15 per cent higher wear life than predecessor tyre the XADN, and the sidewall is more damage resistant. The X-Super Terrain+ is Michelin's E4 product for ADTs used in more demanding environments and on a range of surfaces, and depending on size the tyre comes with a tread depth of up to 60mm. According to Michelin, the switch to a new tread compound has increased tyre life by up to 15 per cent from the previous-generation X-Super Terrain.
Turning his attention to work machines such as loader shovels and dozers, Aitken notes that the evolution of equipment used at worksites presented Michelin with a challenge. "Back in the old days we could have made triangular tyres," he reflects. "Machines were much less sophisticated, the cab was effectively a bench and the waterproofing was a mack, and therefore nobody paid any attention to whether a tyre affected comfort levels. But get into a new loader shovel cab and it is probably better than your car. Today, any vibration or resonance caused by the tyre is very much noticed."
Increasing refinement levels led to Michelin redeveloping its L3 tyre range for load and carry applications; it came out with the XHA2. The tyre maker claims to have reduced vibrations by more than 50 per cent compared with the XHA through the use of a new, patented tread design that allows for smoother contact with the ground. This massive reduction in vibration levels is paired with an up to nine per cent deeper tread pattern for longer tread life. An L4 and L5 offer is also available for loaders. The technical manager comments that the L4 Michelin XTXL is selling in increasing numbers and features reinforced beads, a new type of pattern that breaks up sympathetic resonance and long-lasting, 50 per cent bigger carrying capacity. The XLD D2 is Michelin's L5 tyre for loaders. It features what Aitken calls a 'mutton chop' tread pattern, and this is designed to offer exceptional traction in difficult conditions. Michelin's most damage-resistant treaded loader tyre is, however, the XMine D2, which has very little tread pattern on it but is designed for "massacre conditions" such as in waste or face shovel for rock applications.
The Michelin technical manager comments that mobile cranes are a good indicator of how the economy is performing. "When construction picks up the first thing required is to lift components into place, therefore mobile crane use shows that the economy is improving. It seems there are a lot more of them in use now, whereas before they stood idle in the yard."
Just as Michelin redesigned its L3 loader range to accommodate evolving levels of machinery refinement, the tyre maker has also made changes to its mobile crane tyres. "Mobile crane use in the UK is governed by the Special Types Governing Order (STGO), and the law says a Category C crane can carry 16.5 tonnes on each axle and carry that load at up to 40mph on the motorway. Compare this with the Continent, where just 12 tonnes is allowed on each axle. Not all tyres are designed for the speeds and weights permitted under STGO rules, and that's why you see a lot of melted crane tyres here."
Recognising the futility of expecting all operators to adhere to manufacturer advisory notices for maximum speeds, Michelin went back to the drawing board. Aitken says the result is a tyre that is lighter than the opposition, gives very good mileage and is very fuel efficient. This tyre is the X-Crane+. "We changed the shape of the tyre's sidewall where the tread starts; that's the thickest part of the tyre and therefore the 'heat sink', the region where a tyre could fail due to excessive heat. We redesigned the tyre to make it lighter and less massive in that area. It's a complicated design to produce, but our manufacturing arm has perfected it."
Getting the most from your tyre
The X-Crane+ design, one that is strong enough for the intended loads yet light enough to keep heat down at higher speeds, is something Aitken says typifies the difference between Michelin's OTR products and those from companies who have entered the segment in recent years. "Their products tend to be heavy compared with the premium brands, as adding material to help a tyre withstand the required loads is easier from a manufacturing point of view." He comments that these tyres will perform as advertised in optimal conditions, however heat build-up at speed or when the tyre is under-inflated is not the only issue to look out for: "How effectively can the tyres be repaired or retreaded? Michelin designs tyres for both from first principles, which means designing a tyre casing that can achieve more than just lasting until the tread is worn."
A further point of difference with the Michelin product is the backup that comes when purchasing a tyre. "People buy a Michelin tyre knowing they can call us and we'll come out and help them," comments the technical manager. "It's a long way from China. We want people to get good longevity out of our products so they'll buy them again. Very often the Far Eastern model at the moment is pile it high, sell it cheap, wash your hands of it and produce some more."
Ensuring users get the most out of their valuable OTR tyres involves what Aitken calls a 'three-cornered hat' approach – an interaction between the manufacturer, the service provider/dealer and the end user. "Michelin will recommend on correct usage, for example tyre pressure, the dealer will adhere to that and the user will make sure its operators know what's going on. And at the larger sites we also advise on when to change tyres; often our recommendation is to swap slightly before necessary and to maintain the casing for retreading."
While Michelin doesn't have a preferred OTR tyre retreader in the UK, it does work with three accredited repair partners – Redpath Tyres, Earthmover Tyres in Wakefield, and Kal Tire in Alfreton. The trio are accredited both with Michelin and its repair materials provider, Rema Tip Top UK.
Further backup from Michelin comes in the form of the Site Severity Survey. This involves a tyre-centric inspection by Michelin field staff of a customer's site, including loading/unloading areas and haul roads; the site is then scored and the results given to the quarry manager, along with recommendations for specific improvements. A more in-depth inspection, the Job Conditions Analysis, additionally involves the fitment of GPS trackers to, for example, dumpers working in a quarry. "This gives us a very accurate idea of gradients, tightness of turns and waiting periods when loading and unloading.
"We want to show users that buying the right tyre, one that lasts a long time and is repairable, saves money in the long run – not just on the tyre bill, it also increases efficiency and therefore profitability and productivity," states Aitken. The technical manager emphasises the importance of buying tyres from a manufacturer who also serves as a partner: "If a tyre gets damaged, repair it, but if it keeps getting damaged, call us in and ask 'what am I doing wrong?' You'd be surprised how a different pair of eyes, which only look at what's happening as it relates to the tyre, can find something that the quarry manager misses."
The point Jock Aitken emphasises in closing is that purchasing a tyre is not like buying double glazing, which is installed and then forgotten by the manufacturer. "Our OTR tyres are sold with a backup." And this backup, the tyre maker's 'three-cornered hat' model, appears to be popular with end users; the technical manager shares that when measured by both units and weight, Michelin produces over half of all the OTR tyres sold in the UK.