Hämmerling presenting new eco, 5t Athos tyres at Reifen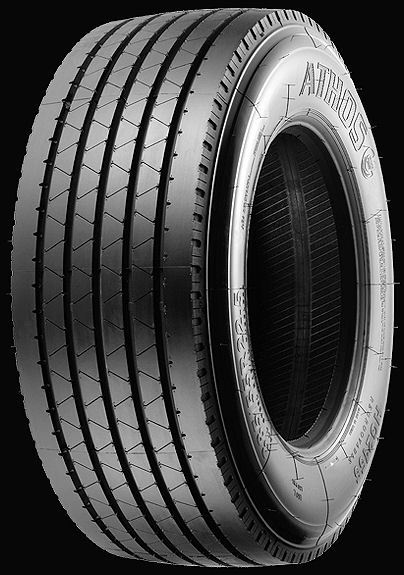 The Hämmerling Group has several key foci in mind for Reifen 2016: The German firm intends to promote its role as a wholesaler of car, truck, motorcycle and construction machinery tyres, its own tyre brands and its function as tyre service provider. In order to do its broad tyre industry portfolio justice, Hämmerling will be present on two separate show stands in Hall 2 – Stand 2D32, and a separate Athos-themed stand, 2D36.
Athos is Hämmerling's own truck tyre brand, and at Reifen the company intends to show four Athos trailer tyres that are available in eight tread patterns; these tyres are each rated to carry a five tonne load, 500 kilogrammes more than prior-generation Athos tyres.
The trailer tyres Hämmerling is bringing to Reifen are not just aimed at the aftermarket – the company plans for healthy sales to OEM customers. "We offer the trade, and particularly the original equipment segment, a peerless range and completely new opportunities," comments Ralf Hämmerling, chief executive officer of Hämmerling – The Tyre Company. He adds that the trailer tyres' high load capabilities "offer completely new scope and options when it comes to (trailer) construction, and also in regards to use in everyday traffic." Trailer manufacturers are said to have already expressed considerable interest in the new tyres, and the first orders have already been placed.
Hämmerling will also present the Athos Eco tyre, the brand's first environment-oriented product. This size 385/64 R22.5 tyre is 4.1 kilogrammes lighter than its predecessor and reportedly saves half a litre of fuel per 100 kilometres. Fuel optimisation was achieved through the use of a tailored rubber compound, specific tread pattern arrangement, a self-developed substructure and the aforementioned weight reduction.
In addition to Athos, the Hämmerling brand portfolio also includes the Sämm pre-cure retreaded truck tyre range and Talos steel truck and trailer rim line-up, along with other marques that span the budget to premium segments. All products that Hämmerling manufactures or distributes undergo quality control checks and are audited and regularly controlled by German inspection and certification specialist TÜV Nord.
Founded 37 years ago, Padderborn, Germany-based Hämmerling – The Tyre Company GmbH remains a family-run business and has grown to become a leading European tyre wholesaler. Around 50,000 articles are stored within the company's 20,000 square metre warehouse space; these are distributed by Hämmerling's own logistics company, which operates from 11 sites and can deliver small or large quantities of products throughout Europe. In total, Hämmerling employs around 500 people and aims to offer "customers the best possible service."