Jan Heuver retires at wholesaler's 50th anniversary celebration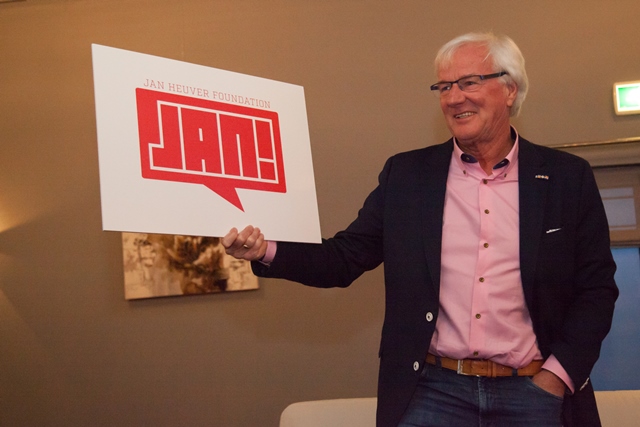 This year Heuver Tyrewholesale celebrates its 50th birthday, and at the same time another person of significance to the company celebrates an important birthday milestone. Jan Heuver has turned 65 and reached the Netherland's official retirement age, and therefore is stepping down as a director of Heuver Tyrewholesale. He was honoured by Heuver Tyrewholesale employees at an internal function held to mark the company's half-century, and his retirement was further observed by the establishment of 'Jan!', the Jan Heuver Foundation, a surprise farewell gift the wholesaler believes a fitting one for the public-minded director.
Jan Heuver worked in the company his father founded for 49 years, and his passion and style of working drove growth from the earliest days. "As a true people person, Jan could forge good relationships and always found the best employees. Thanks to his numerous international contacts the company was able to secure exclusive import contracts," comments the tyre wholesaler. "Our 50th anniversary is a fantastic milestone for bidding farewell."
"My work has been a joy and passion," exclaims Jan Heuver. "Every day I was first and foremost proud of the wonderful team that we have, both in our wholesale business and in our 13 Profile Tyrecentre outlets. After all, our employees shape our operation and help make us unique. Every day they dedicate themselves to our fantastic products. Over the past 50 years we have undertaken many steps, but each of them felt very natural. The company has a very solid foundation, and therefore I took the view that I could change down a gear.
"It was a huge surprise as I received the 'Jan!' foundation as a gift during my official farewell," adds Jan Heuver. "The underlying idea is the support of young people who are disadvantaged in the job market. We will further map out this concept over the coming months. A superb present, magnificently chosen!
"Of course I will remain connected to our company," he concludes. "It goes without saying that my thoughts will remain with it in future, and I look forward to seeing many business partners again. Without this large number of loyal customers, Heuver wouldn't be where it is today."
While Jan Heuver will remain connected to the company in an advisory capacity, Marc Luttikhuis has taken over his finance-related roles; on 1 May, Luttikhuis assumed the position of Heuver Tyrewholesale's financial director.