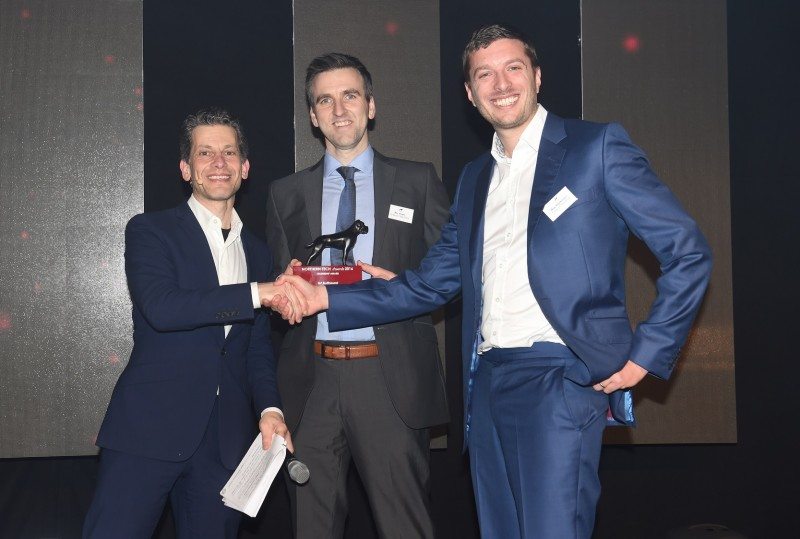 (l-r) Wired editor David Rowan; Ric Clark, CTO and co-founder of Tyres on the Drive; Max Hopkinson, marketing director at Tyres on the Drive
Mobile tyre-fitting specialist Tyres on the Drive has won the Judges' Award for Leadership at this year's Northern Tech Awards in Liverpool. The Cheshire-based company was also named the 12th fastest growing tech business in the North of England and Scotland, having achieved 73 per cent revenue growth for 2013 to 2015, in a league table of the top 50.
The ceremony was held at the Titanic Hotel, with winners being selected by a panel of high-profile judges, including Wired editor David Rowan and former Tesco CEO Sir Terry Leahy.
Founded in 2011 by Dominic Clark, Tyres on the Drive presents customers with the opportunity to book online to have new tyres fitted or punctures repaired at any suitable location of their choice. The flexibility of online booking from anywhere, enabled by Tyres on the Drive's focus on technology, informed the judges' decision.
Max Hopkinson, marketing director at Tyres on the Drive, said of the win: "We're beyond proud to be recognised at the Northern Tech Awards. Making the the top 50 was enough, but this is the icing on the cake.
"Everything is built in-house, from our user experience through to our optimised scheduling. It's this, coupled with the data we've collected since our first tyre fitting, that sets us apart from the competition."
2016 has seen the business also win North West Management Team of the Year at the BVCA Management Team Awards, and founder Dominic Clark win the Cheshire Business Leaders Award for the Outstanding Cheshire & Warrington Business Leader.
Category: Company News, UK News