New car registrations reach all-time high in 2015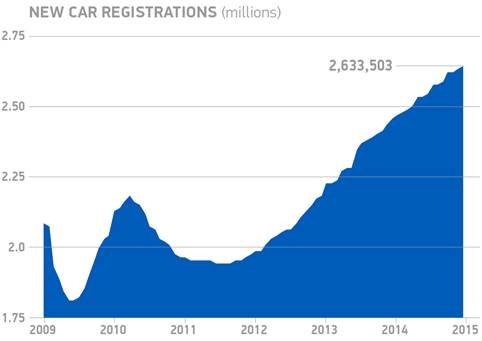 Annual registrations of new cars in the UK grew for the fourth consecutive year in 2015 and exceeded 2.6 million units for the first time. Figures from the Society of Motor Manufacturers and Traders (SMMT) show that the market has posted increases in all bar one of the past 46 months, and a bumper December – up 8.4 per cent and the biggest ever – saw 180,077 new cars registered.
Overall, the market rose 6.3 per cent in 2015 to 2,633,503 units – exceeding forecasts and outperforming the previous record year of 2003, when 2,579,050 new cars left the UK's showrooms. This is only the fourth time the market has surpassed 2.5 million vehicles in a full year. Growth was enjoyed across all sectors, with UK fleets boosting demand by 11.8 per cent to reach an all-time high of 1.3 million units. Appetite in the private sector, meanwhile, was also robust and up 2.5 per cent.
Gains were reported across all fuel types, with petrol and diesel registrations up 8.4 per cent and 3 per cent respectively, with roughly equal market shares. Although unit sales of alternatively fuelled vehicles paled in comparison to petrol and diesel vehicle sales, demand grew 40.3 per cent to give the segment a 2.8 per cent market share. Sales volumes for plug-in hybrids more than doubled, while pure electric vehicles saw an uplift of around 50 per cent.
"The new car market defied expectations in 2015, hitting an all-time record driven by strong consumer and business confidence," comments SMMT chief executive Mike Hawes. "Buyers took advantage of attractive finance deals and low inflation to secure some of the most innovative, high tech and fuel efficient vehicles ever produced. The past four years have seen a remarkable period of sustained growth, and the outlook remains positive with every reason to expect the market to hold broadly steady in 2016."