March new car registrations the highest in 10 years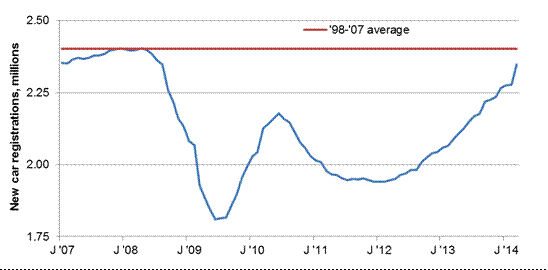 Last month's UK new car registrations reached levels not seen in a decade, the Society of Motor Manufacturers and Traders reports. The month of March is typically the biggest month for registrations in the year, attracting around a fifth of all registrations, but this year demand for the new 14-plate drove new car registrations up 17.7 per cent year-on-year to 464,824, an amount not seen since March 2004, the only other occasion registrations have hit such heights since the twice-yearly plate change was implemented in 1999. Year to date registrations are up 13.7 per cent to 688,122 units. March was also the biggest-ever month for alternatively-fuelled vehicles, with volumes reaching 8,713 units, a growth of 63.8 per cent on 2013.
"New car registrations surged 17.7 per cent in March to 464,824 units, a surprisingly strong level of growth and a reflection of intensifying consumer confidence and the availability of great new products," says SMMT chief executive Mike Hawes. "Given the past six years of subdued economic performance across the UK, there is still a substantial margin of pent-up demand that is contributing to a strong new and used car market."
Hawes opines that "there has never been a better time to buy a new car thanks to attractive finance deals and advanced technologies that often make new cars cheaper to run." He says the SMMT expects the market to continue to perform positively for the rest of the year, albeit at a more modest rate.