MAN chooses Michelin X Energy Line as preferred option on EfficientLine2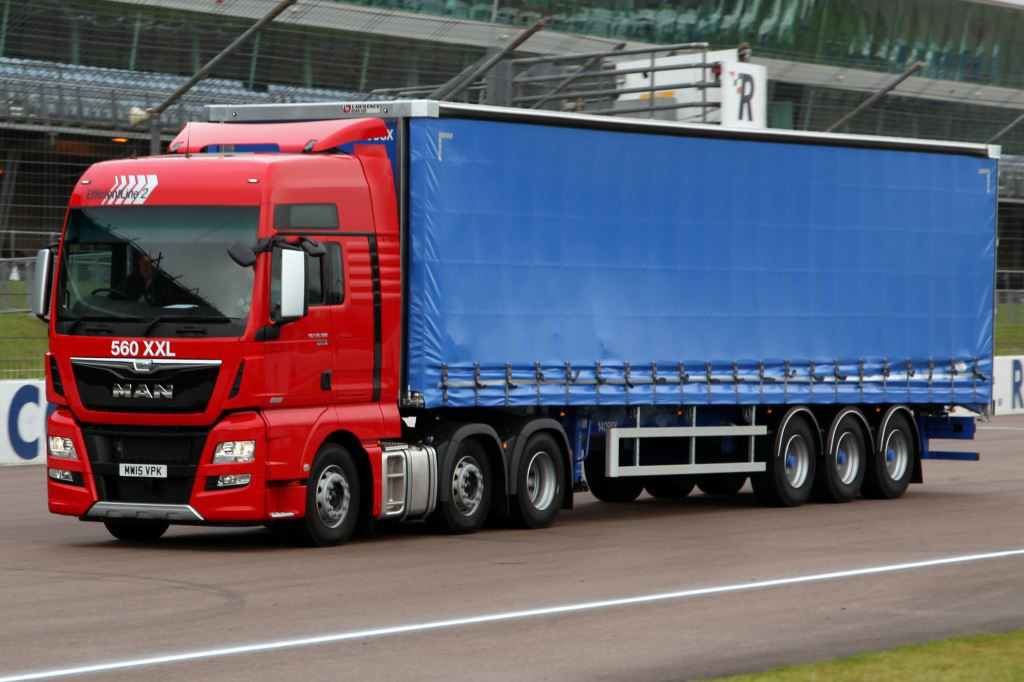 Michelin's 315/70 R 22.5 X Line Energy tyres has become MAN's preferred choice for its new EfficientLine2 model. The tyres' fuel-saving credentials are cited as MAN's key consideration, with the model designed for improved efficiency. Trials were conducted with the support of Michelin's UK technical team; the tyres ran a 130 mile test route for a week.
The 315/70 R 22.5 X Line Energy tyres were being tested directly alongside sets of Michelin's X MultiWay 3D 'regional' tread pattern tyres in 295/80 R 22.5, 315/70 R 22.5 and 315/80 R 22.5 sizes. The tyres were fitted to a MAN TGX XLX 26.440, pulling a fully-laden tri-axle Don-Bur trailer.
The 315/70 X Line Energy tyres – designed to operate on long-distance journeys at a high average speed – showed around a five per cent advantage in fuel efficiency over the X MultiWay 3D tyres, which themselves blend strong fuel performance with excellent mileage potential for national and regional operations on a variety of road surfaces.
Les Bishop, product marketing manager at MAN Truck and Bus UK, says: "The fuel efficiency achieved by MAN's EfficientLine2 is a result of a carefully selected combination of components – not least energy-efficient tyres.
"The intensive week-long testing process revealed that the ideal fitment for us was Michelin's 315/70 X Line Energy tyres; which is now the ideal fitment for new EfficientLine 2 models rolling off the production line."
"These fuel trials allow us to gather detailed feedback and results, which then guides us to select the optimum tyre for an individual class of truck. Michelin tyres frequently come out above other premium brands.
"We generally talk about how fitting a Michelin tyre will give you two to three per cent better fuel economy over anything else – and that's before you get into the specialised X Line Energy fitments for long-distance trunking."
Michelin's 315/70-series fitments feature a wider nominal section width and lower profile than traditional 295/80 tyres previously favoured in the UK. They provide a greater contact area with the road surface and promote even wear, with a high degree of tyre stability and a lower centre of gravity for improved vehicle handling. What's more, with an 8,000kg front axle rating, they are also suited for the additional unladen front axle weights imposed by most Euro VI vehicles.
"It's the little things that add up to make the big difference when it comes to fuel efficiency," adds Bishop. "This latest generation of Michelin X Line Energy tyres are well suited to both long-distance motorway driving in terms of fuel efficiency, and in durability and traction when dealing with the UK's many roundabouts and A-roads."
MAN's Euro VI EfficientLine2 features a number of fuel-saving enhancements, including cruise control, air pressure management and a lighter aluminium fuel tank, compressed air tank and wheel rims.
The vehicle can also be equipped with a tyre pressure monitoring system, which could help drivers ensure the trucks' tyres are performing to the maximum in terms of longevity, mileage potential, safety, traction and – crucially for the cost-conscious operators of MAN's EfficientLine2 – fuel savings.