Michelin offers Euro VI truck in CV tyre sales promotion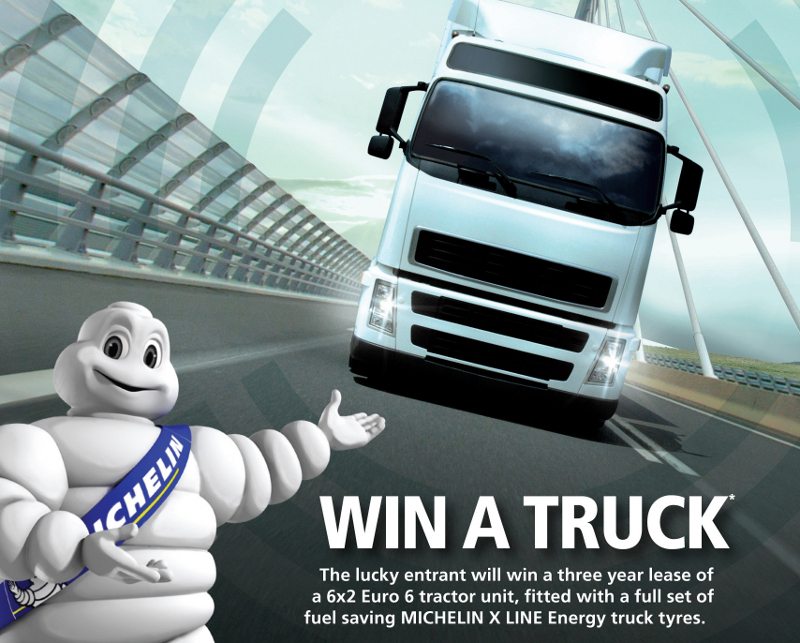 Michelin has launched a British sales promotion for the commercial vehicle sector, offering a three-year lease on a new Euro VI 6×2 tractor unit. Business customers in England Scotland and Wales purchasing two or more Michelin tyres from ATS Euromaster, a Michelin Truck Professional Centre, or the trucks.michelin.co.uk e-commerce platform can enter up to ten times. The promotion runs until 25 July 2014, and the winner can pick from their choice of DAF, Iveco, MAN, Mercedes-Benz, Renault, Scania or Volvo models, up to the value of £60,000.
Sharn Samra, Michelin's head of truck marketing, says: "We recognise vehicle ownership is a huge running cost for owner-drivers and fleets; that's why we're giving away a truck for three years, free of charge. To help the winner save fuel, it will be delivered with a set of 315/70 R 22.5 Michelin X Line Energy tyres as original equipment – designed to handle the increased axle load of a Euro VI vehicle, whilst also saving fuel."
The X Line Energy range combines Michelin's lowest rolling resistance truck tyres to-date with the manufacturer's best longevity. On the EU tyre label, the 315/70 X Line Energy Z (multi-position) is rated 'B' for rolling resistance and wet grip, while the 315/70 X Line Energy D (drive) is rated 'B' for rolling resistance and 'C' for wet grip.
The X Line Energy line also features comfort, handling and safety features appropriate for each model. The X Line Energy Z offers improved road handling, driver comfort and resistance to accidental tread damage; the X Line Energy D features improved grip and traction on slippery road surfaces owing to the inclusion of patented Towerpump and Delta sipes; and finally the drive tyres are marked '3PMSF', indicating a known minimum level of grip in snow conditions, for improved safety.