Bridgestone trials guayule rubber in prototype tyres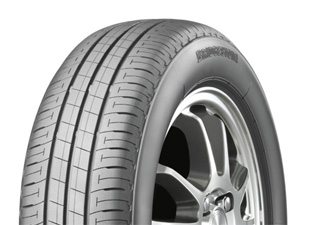 Around three and a half years ago, Bridgestone Corporation announced plans to develop the guayule plant into a commercially viable alternative to traditional sources of natural rubber. The company produced its first guayule-sourced natural rubber samples a year ago, and today shares it has reached another milestone on the path to guayule commercialisation – Bridgestone says it has produced passenger car tyres whose natural rubber content is 100 per cent sourced from the desert shrub.
The tyres were built at the Bridgestone Technical Center in Japan using guayule natural rubber cultivated by Bridgestone at its Biorubber Process Research Center (BPRC) in Arizona, USA, and Bridgestone says it made "similar passenger tyres" at its centre in Rome, Italy earlier this summer. Guayule rubber was used as a substitute for Hevea brasiliensis rubber in all major components, including the tread, sidewall and bead filler.
Bridgestone considers the production of these prototype tyres the "next step in understanding guayule's role in the tyre industry." Similar to competitor firm Continental, which states an aim of bringing guayule-rubber tyres to market within five to ten years, the Japanese tyre maker's timetable for guayule involves its practical application to tyres in the 2020s. Its big-picture plan is to exclusively utilise sustainable raw materials in tyres by 2050.
With these first prototype tyres, Bridgestone joins Apollo Vredestein and Cooper Tire & Rubber in the club of tyre makers that have produced guayule rubber tyres or have participated in projects to produce such tyres. Other tyre makers, including Pirelli, have also investigated guayule's potential; the Italian tyre maker announced in 2013 that it is working with Versalis to produce guayule tyres. And it's easy to see why manufacturers with a global production footprint would be interested in substituting Hevea rubber with guayule. Around 90 percent of all natural rubber used today is harvested from Hevea brasiliensis, a tree that only grows in tropical regions such as Southeast Asia. Guayule grows in the arid Southwestern United States and Mexico, in a region where Bridgestone operates 16 tyre factories. The ability to grow rubber locally, preferably at Bridgestone-owned or controlled farms, would eliminate raw material transportation costs and reduce the company's dependence on third-party suppliers and on a single source of natural rubber. Bridgestone has also looked into the use of Russian dandelion rubber in Europe and soybean oil in agricultural tyre production.
After securing a plot of agricultural land in Eloy, Arizona, with an area of 114 hectares or approximately 281 acres, the Bridgestone Group established a research farm to employ advanced breeding practices and develop guayule cultivation techniques. The Bridgestone Agro Operations Research Farm opened in September 2013. One year later, Bridgestone opened the BPRC and established, in-house, all processes necessary for developing guayule natural rubber for use in tyre applications, including research and development, experimental production and manufacturing.