Double the range and lower cost – groundbreaking EV battery technology comes to Bosch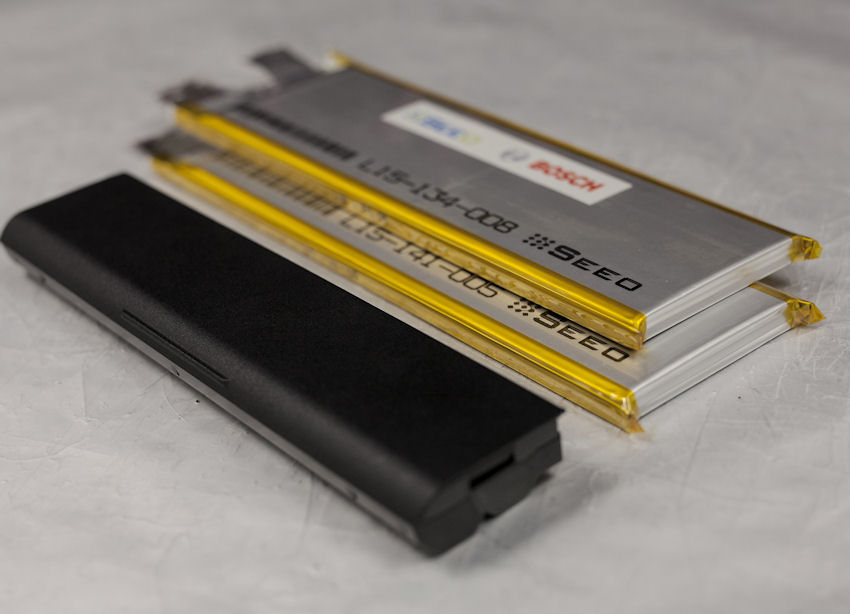 A newly-presented Bosch battery technology for electric cars, a battery containing solid-state cells, may be production-ready in as little as five years and offer more than double the energy density of comparable current products – at a lower cost. The company says the recent acquisition of Silicon Valley start-up Seeo Inc. for an undisclosed sum will help make this possible, as thanks to the acquisition Bosch now possesses the first sample cells needed to further its development work.
"Bosch is using its knowledge and considerable financial resources to achieve a breakthrough for electromobility," says Dr Volkmar Denner, chairman of the Robert Bosch GmbH board of management. Denner adds that "solid-state cells could be a breakthrough technology" capable of meeting or exceeding the set target of doubling battery energy density and halving costs (and thereby reaching cost parity with internal combustion engines) by the end of the decade. An electric vehicle with a current driving range of 100 miles would be able to travel more than 200 miles using solid-state cell batteries.
Bosch claims the acquisition of Seeo "fits seamlessly" into its electromobility strategy and a portfolio that already includes a wide range of components for electromobility, from motors and power electronics to batteries. Bosch has already realised 30 related production projects, and the acquisition of Seeo follows the 2014 formation of the Lithium Energy and Power GmbH & Co. KG joint venture with GS Yuasa and Mitsubishi Corporation – Lithium Energy and Power aims to develop a more powerful generation of lithium-ion batteries. In regards to the solid-state cell battery project, Bosch says Seeo's technology complements the work done thus far with its Japanese joint venture partners: "The result will be a combination of groundbreaking start-up technology with Bosch's systems and technology know-how, GS Yuasa's cell competence, and Mitsubishi Corporation's broad industrial base," explained the company in a statement.
One reason behind the limited capacity of current lithium-ion batteries is that the battery's negative pole, the anode, is largely made from graphite. Using solid-state technology, Bosch can manufacture the anode out of pure lithium, considerably increasing storage capacity. In addition, the new cells function without ionic liquid, which means they are not flammable. "The pure lithium anode represents a huge innovative leap in battery cell construction," opines Denner.
The reason for Bosch's interest and increased activity in the field of electromobility is clear – the company forecasts that around 15 per cent of all new cars built worldwide by 2025 will have either a hybrid or electric powertrain, while in Europe more than a third of all new cars will be electrically powered – the majority as plug-in hybrids.