Bridgestone to produce anti-vibration rubber in Indonesia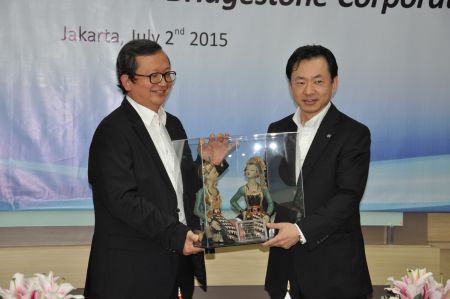 Astra Otoparts, the Indonesian automotive component company that has partnered with Pirelli to set up a motorcycle tyre factory, has entered into an agreement with Bridgestone Corporation to establish another joint venture manufacturing company. This latest JV is non tyre-related and involves the manufacture of vibration rubber products for motor vehicles. The agreement was concluded in Jakarta on 2 July and was signed by Yasuhiro Suzuki, director of Bridgestone's Diversified Original Equipment Division, and Hamdhani Dzulkarnaen Salim and Djangkep Budhi Santoso, president director and director of Astra Otoparts.
The new joint venture company is being set up with a total investment of approximately IDR 174.0 billion (£8.4 million), and Bridgestone holds a 51 per cent stake in the operation. The company will be located in Purwakarta, West Java and produce engine mounting, body mounting and suspension parts for four-wheel vehicles. Volume production is expected to commence in January 2016. Bridgestone says the new facility will complement the seven anti-vibration rubber plants it currently operates in five countries.