Three new BKT tyres at Intermat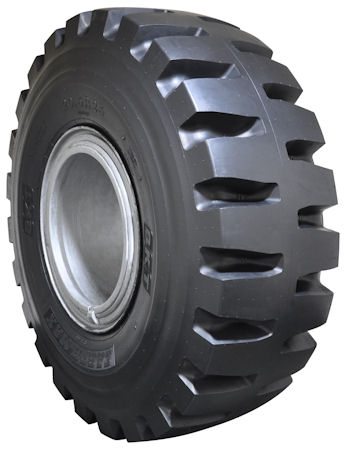 BKT is showing three new additions to its Earthmax range at Intermat. Like other tyres in the Earthmax line-up, the Earthmax SR 47, SR 51 and SR 53 are built upon a reinforced all-steel casing and have a tread pattern with rigid, non-directional blocks in order to better distribute load.
The Earthmax SR 47 is now available in size 24.00 R35. The tyre is designed for rigid dump trucks that transport loads over the hardest earth surfaces, including rock quarries. The deep, class E-4 tread pattern features a lug design that aims to improve traction and provide a longer tyre lifecycle, ultimately reducing downtime. A cut-resistant compound has been used to help the SR 47 withstand cracks and punctures.
The Earthmax SR 51 is available in size 20.5 R25 for loaders operating in quarries and mines. This non-directional tyre is said to demonstrate excellent forward and backward performance and be ideal for digging and loading. "The latest newcomer to the series is slated to have a long life expectancy thanks to its squared shoulder design and the class L-5 special tread compound, which expels stones laterally significantly reducing the risk of puncture," reports BKT.
The trio of newcomers is completed by the Earthmax SR 53 in size 17.5 R 25. This L-5 class tyre has been engineered for the same type of vehicles as the Earthmax SR 51, but also lends itself to operations in mining and rock quarries with particularly rocky land surfaces. BKT says the tyre is made of an extraordinarily cut-and-heat-resistant compound, while the self-cleaning tread expels rocks and other foreign matters. These two special features stand for both a long product life-cycle and great productivity, the tyre maker adds.