Early start to the season – first 2015 summer tyre test published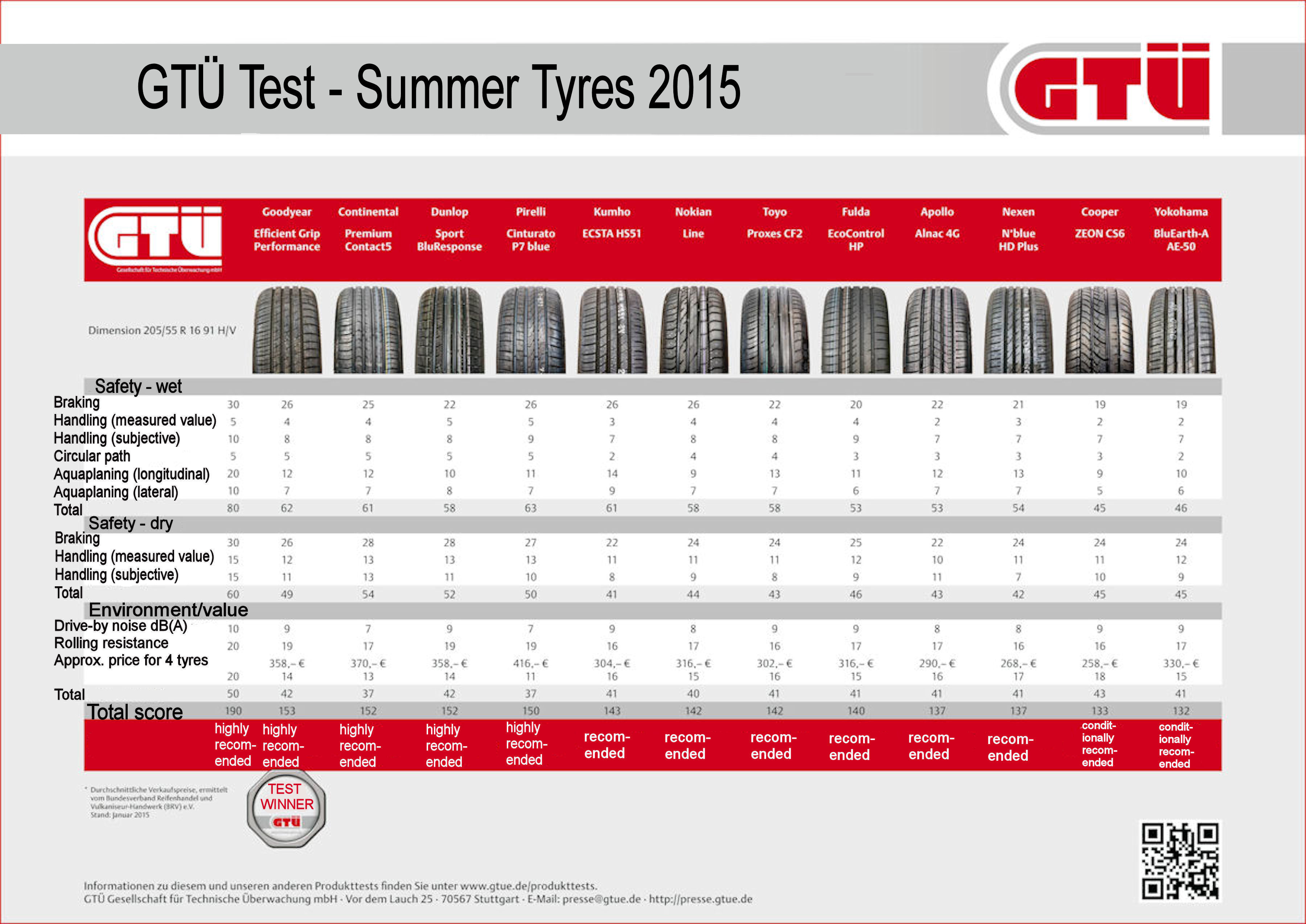 A commonly held view is that Germans are very punctual, and even prone to showing up early. This is certainly the case when it comes to summer tyre tests this year. GTÜ, the German government-accredited vehicle inspection organisation, has published a comparative test of a dozen tyres in the popular compact class size 205/55 R16. What the testers found is that its worth paying for good tyres, and that in general the quality of most tyres continues to improve. Test winner was the Goodyear EfficientGrip Performance, while other premium brands received a "highly recommended" rating from GTÜ. Even the lowest-ranked tyres in the test were given a "conditionally recommended" rating.
In partnership with German road service organisation ACE Auto Club Europa and Austrian motoring association the ARBÖ, GTÜ evaluated the 12 size 205/55 R16 tyres in a number of criteria, including safety on wet and dry roads and value for money. It found four of the tyres "highly recommended", a further six "recommended" and two "conditionally recommended". The testers opined that they tyres from major manufacturers, specifically Continental, Dunlop, Goodyear and Pirelli, achieved "victory between them" declared them products "worth the money".
Test winner was the Goodyear EfficientGrip Performance, with the highly recommended Continental ContiPremiumContact 5, Dunlop Sport BluResponse and Pirelli Cinturato P7 Blue close behind. "These premium tyres shine with the greatest possible safety on wet and dry roads," reported the testers.
A "recommended" rating was given to the midfield players, the Apollo Alnac 4G, Fulda EcoControl HP, Kumho Ecsta HS51, Nexen N'Blue HD Plus, Nokian Line and Toyo Proxes CF2. "All are relatively well-balanced, mid-price segment tyres with only a few rough edges," shared GTÜ.
Even the "conditionally recommended" rating given to the Cooper Zeon and Yokohama BluEarth-A AE50 indicates the testers found the overall performance of these two summer tyres satisfactory. Negative aspects the testers singled out were "poor aquaplaning characteristics and insufficient adhesion on wet road surfaces" which showed the tyres to be, in the testers' point of view, "not technically state-of-the-art."
More interested in winter tyre tests? Further information can be found here and here.