Avon to supply 3D Ultra Xtreme tyres to Thundersport Aprilia RRV450GP Challenge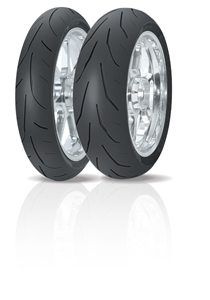 Avon has been appointed control tyre supplier to the Thundersport GB Aprilia RRV450GP race series. The manufacturer will supply its road-legal 3D Ultra Xtreme track tyres as the official dry race tyre, as well as racing wet tyres, in sizes 120/70ZR17 (front) and180/55ZR17 (rear).
Avon stated that its appointment had come after Thundersport GB spent much of the close season testing new rubber; Avon's 3D Ultra Xtreme came out on top for 2015 in terms of grip, handling, and tyre tread life, as Thundersport's Dave Stewart explains: "Avon's new 3D Ultra Xtreme tyres consistently outperformed everything else, not only in outright performance terms, but also in tyre tread life and through various heat cycles. Based on those findings, we realised that we simply had to obtain this product for our championship." Test riders commented that the Avon's front profile was very well suited to the Aprilia.
Thundersport's Aprilia RRV450GP series, run in conjunction with IN Competition, aims to fill the gap between 125GP level racing and 600cc supersports racing. For both novice and advanced racers, the 65bhp Aprilia fits well between 30bhp 125s and 120bhp 600s. The bikes are based on Aprilia's SXV450 V-twin off-road bike, with suspension, wheel, brake and bodywork modifications, to suit short-circuit road racing.
The Aprilia RRV450GP series is televised free to air on Motors TV in the UK, Fox in the US and Channel 7 in Australia.