Ducati makes Diablo Supercorsa SP OE on three performance bikes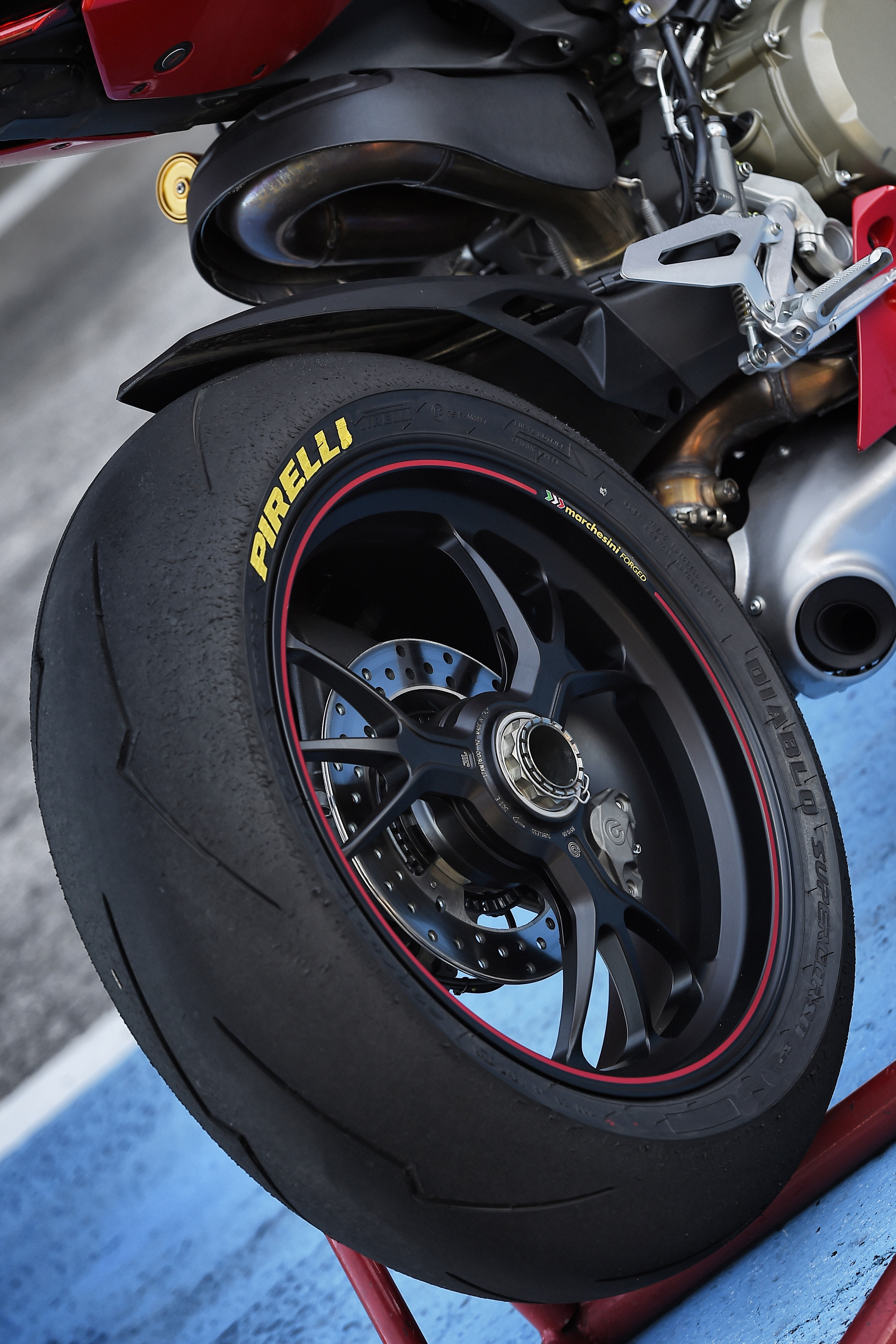 Pirelli's Diablo Supercorsa SP will be fitted to the new Ducati 1299 Panigale, 1299 Panigale S and Panigale R as original equipment in 120/70 ZR17 (front) and 200/55 ZR17 (rear). The Italian tyre manufacturer says the tyre represents technologies developed as a result of Pirelli's racing experience and heritage as sole supplier of the World Superbike Championship since 2004. The latest fitments are the latest in a series of OE deals with Ducati and other marques.
Compared with the compound version SC, which is for track use, the Diablo Supercorsa SP offers a bi-compound rear tyre in order to better adapt to street use, as well as more regular wear which favours mileage. The tyre's rear profile, compared to the 190/55 version, is 2mm wider and has a 4mm larger diameter, for greater support during braking, feedback, and stability. The rear tyre has been designed and developed to increase the contact area and have more grip while leaning through a corner.
Pirelli's Diablo Supercorsa SP also has a bi-compound solution in order to permit both increased mileage and more grip while leaning. EPT (Enhanced Patch Technology) has also made it possible to use 23 per cent more soft compound in the shoulder area (compared to the previous Diablo Supercorsa SP version). Pirelli adds that this accounts for the 33 per cent of new pattern extension on each side, guaranteeing better grip in mid to full lean. New polymers used for the SP compound help to bring forward warm-up time and to improve grip.
The compounds' performance is augmented with a single element tread pattern, which revolves six times on the tyre surface. The result of this is that the "naked" area of the slick shoulders is 24 per cent wider compared to the previous Diablo Supercorsa, increasing contact area and grip. The long longitudinal grooves, expanding from the central area to the shoulder, improve wear regularity especially under severe usage and helps water drainage.
The higher speeds attainable while leaning mean that Pirelli also needed to use a structure derived from those used in competition to provide greater resistance to deformation. The Diablo Supercorsa SP rear tyre has a carcass made from an innovative high module fibre, patented by Pirelli and developed in WSBK, with a considerably lower deformation ratio than the fibre normally used in street tyres. The carcass is therefore more rigid, both at the centre and in the shoulder area providing greater resistance to the stress created by aggressive cornering or when accelerating early out of a turn with the bike still in a leaning position.
The tyre also gives riders the chance to customise with special rubber labels that can be applied to the front and rear sidewalls. Label designs can be submitted through Pirelli's website, with the results delivered.