Pirelli supplies custom Diablo Supercorsa tyre to Ducati Superleggara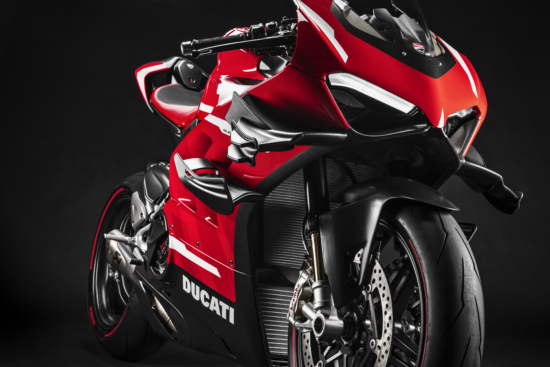 Pirelli has developed a customised version of the Diablo Supercorsa SP to meet a new challenging performance target. The tyre will be the original fitment on the most powerful and technologically advanced production Ducati ever, the Superleggera V4. The tyre is designed to help riders get the most out of the significant aerodynamic load generated by the bike's biplane wings, which characterise the aggressive design of the new motorcycle.
The Superleggera V4 Ducati is the world's only street-legal motorcycle with a full carbon fibre frame, subframe, swingarm and wheels. The 90° V4 engine is capable to deliver up to 234 HP. At only 152kg, the bike features power-to-weight ratio of 1.54 CV/kg. The biplane wings and other carbon fibre components help the bike increase aerodynamics too. It achieves up to 50kg of downforce, increasing stability and acceleration.
As technical partner and exclusive tyre supplier, Pirelli worked closely with Ducati during the development of the Superleggera V4. The tyre manufacturer says it had to make some radical technical choices in order to create a highly innovative tyre to meet the challenging performance target set by Ducati. Pirelli has previous experience with Ducati production goals. It developed the Diablo Supercorsa SP V3 size 200/60ZR17 for the first Panigale V4. It was the first time such a tyre was legal for road use.
Latest Diablo Supercorsa SP
The current Diablo Supercorsa SP is the third generation of the race replica tyre. It was developed in conjunction with Pirelli's racing commitments, in particular as the official sole supplier of the FIM Superbike World Championship. It has held this position since 2004.
The front tyre is single compound, a solution that allows rapid warm-up and constant grip in any situation. The rear tyre is dual compound, using racing rubber developed in the Superbike World Championship in the shoulder area. The tyre's sidewalls are slightly rounded, which Pirelli says is a result of the complete redesign of the tyre structure. This aims to manage the performance the Superleggera V4 is capable of. Finally, the sidewalls are special color edition tyres and bear the red Pirelli and Diablo logo.
Pirelli says its Diablo Supercorsa SP has "established a new reference point for race replica tyres." Ducati's choice to fit in to the Superleggara V4 adds another flagship model leaving the factory on Pirelli rubber.