Bridgestone develops CAIS-based tyre wear sensor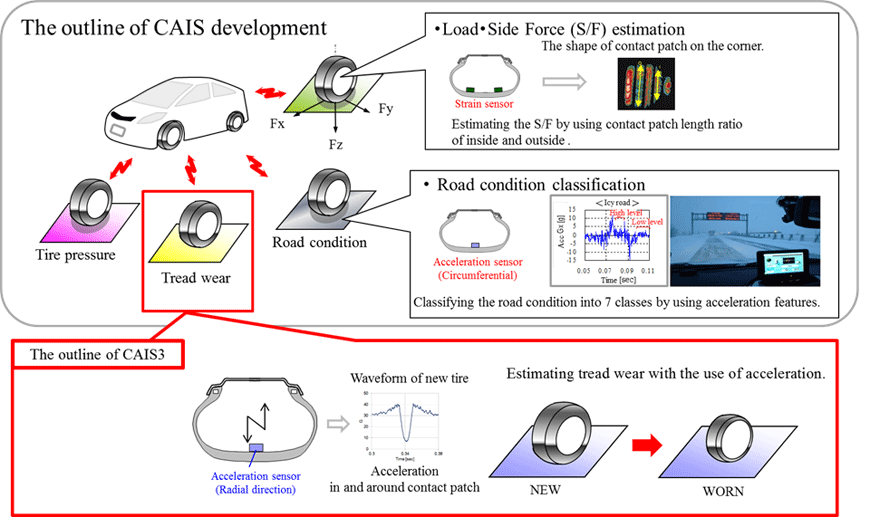 It's more than three years since Bridgestone Corporation first announced its work with what it calls Contact Area Information Sensing, or CAIS. When it initially presented CAIS at the IAA Cars show in 2011, the tyre maker proposed the use of the "future technology" for determining road surface conditions. Now Bridgestone says it has developed a system based on CAIS that can estimate tyre wear and tread depth. No timetable for rolling out the technology in volume-production tyres has been announced at this stage.
The new technology utilises acceleration sensors attached to the inside of a vehicle's tyres; the sensors are powered by a generator installed within the tyre and detect bends in the tyre tread during normal driving. This information is then wirelessly transmitted to analytical equipment mounted within the vehicle.
By analysing the information provided by the acceleration sensors, the CAIS technology estimates tread wear conditions and provides the driver with real-time monitoring of tyre conditions, enabling more accurate decisions on tyre replacement and rotation to be taken. Bridgestone comments that this not only delivers a safety advantage – it also reduces waste and cost by allowing tyres to be use for the longest possible period.
Bridgestone was honoured for its early work on CAIS by Tire Technology International magazine, which voted the technology winner of its Tire Technology of the Year Award at the 2012 Tire Technology Expo show in Cologne, Germany.