Third-quarter income up 14.1 per cent at Continental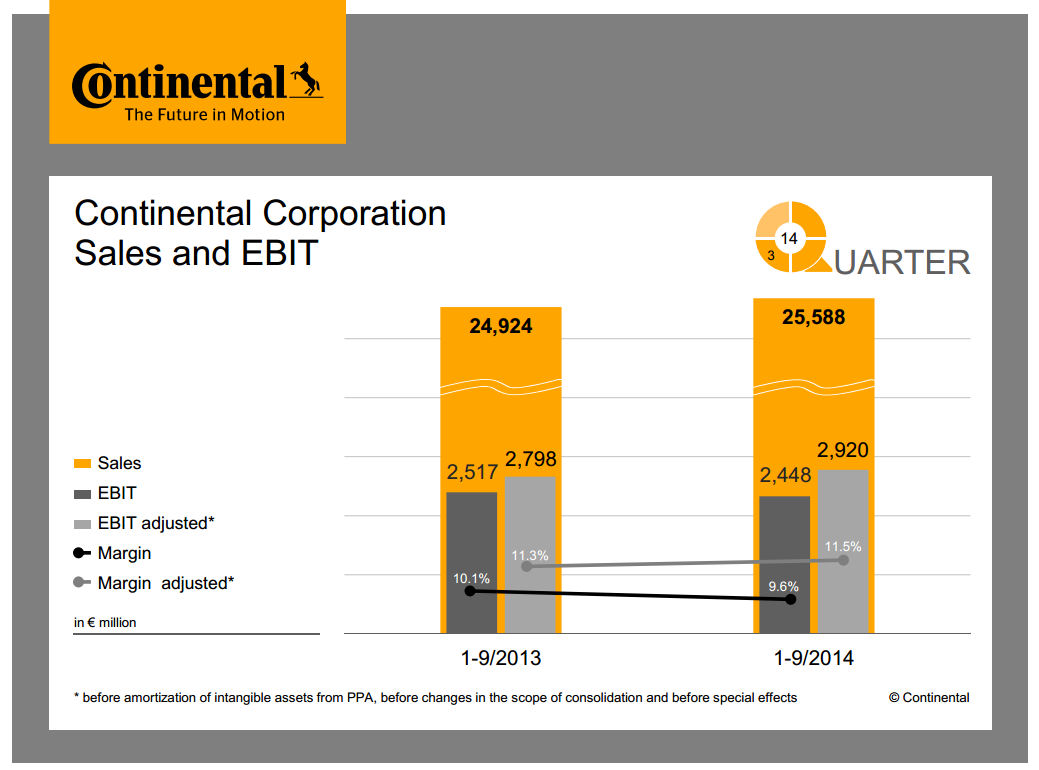 Following what it calls a "solid third quarter", Continental Corporation has confirmed its forecast for the 2014 fiscal year. The tyre and automotive systems manufacturer reported net sales of €8.7 billion in the period between 1 June and 30 September, a year-on-year increase of 3.8 per cent. EBIT decreased 28.0 per cent to €637.8 million in the three-month period, with EBIT margin declining from 10.6 per cent in Q3 2013 to 7.4 per cent, however net income rose 14.1 per cent to €495.1 million. Earnings per share amounted to €2.47, up from €2.17 a year earlier.
For the first nine months of 2014, net sales rose 2.6 per cent to €25.6 billion. EBIT was down 2.7 per cent to €2.4 billion and EBIT margin declined year-on-year from 10.1 per cent to 9.6 per cent. Adjusted EBIT rose 4.4 per cent to €2.9 billion, with the adjusted EBIT margin growing from 11.3 per cent to 11.5 per cent. Net income is up 14.1 per cent compared with a year earlier to €1.8 billion. Earnings per share have risen from €7.88 to €8.99.
"We are keeping our sights set firmly on our target for the adjusted EBIT margin, which we raised to around 11 per cent after the first half of the year, and we even consider it realistic that we may slightly exceed this level at the end of the year. Sales are expected to total approximately €34.5 billion this year, despite the negative exchange rate effects of €650 million that we recorded in the first nine months," said Dr. Elmar Degenhart, chairman of Continental's Executive Board, at the presentation of the company's results today. "However, the development of the exchange rates relevant to us is currently unlikely to change significantly by the end of the year."
In the first three quarters, Continental's Rubber Group generated a slight increase in sales to almost €10.2 billion and increased its adjusted EBIT margin from 17.0 per cent a year earlier to 17.8 per cent. Owing to the further decrease in raw material prices, Continental now anticipates a positive impact of €180 million for the Rubber Group rather than the previously forecast €160 million.
Full financial details for Continental can be found in our company profiles and reports section.