Michelin Challenge Design winners announced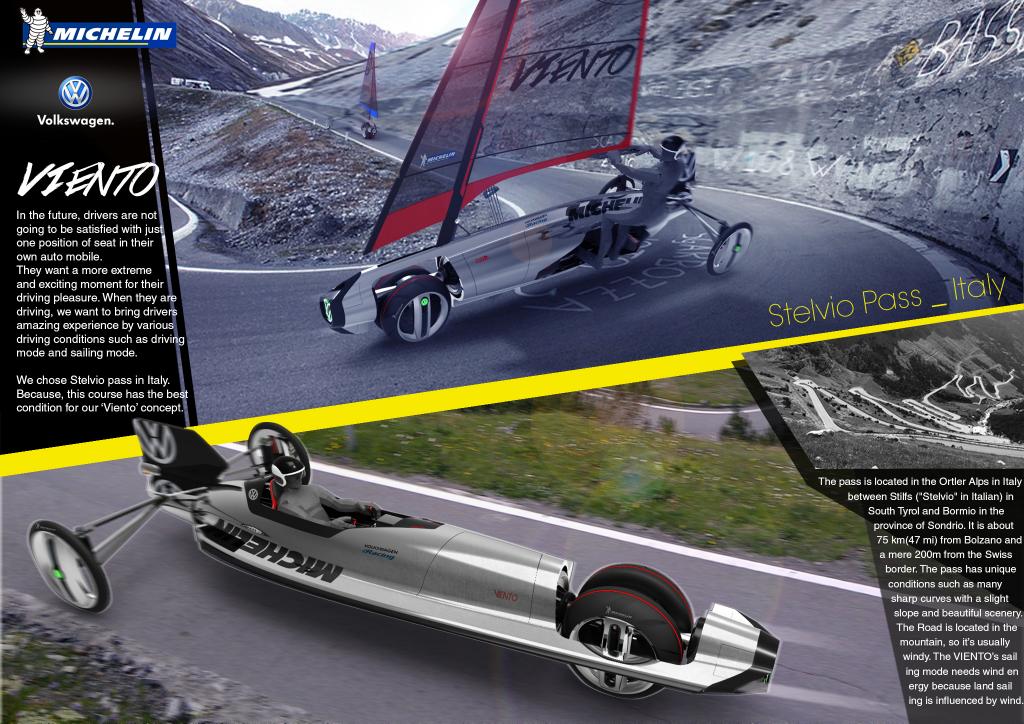 The winners of the global 2015 Michelin Challenge Design have been announced, with the tyre maker honouring 15 individuals and teams from the UK and nine other countries for their efforts. The winning designs for the latest challenge, which focused on the theme "Drive Your Passion: Engaging Senses, Soul and Emotion," were selected from more than 1,100 registrants in 81 countries.
First place went to South Korea's Youngjai Jun and Gunyoung Yoon, with Aurelien Deleuze, Pierre-Hugues Vallin and Robinson Mancaux from the tyre maker's homeland named as runners up. Third place when to Cristian Polanco from Guatemala. Additional winners, in alphabetical order, are: Mehdi Alamdari and Ali Doostdar (Australia), Nicholas Lee Dunderdale (United Kingdom), Arjun Govil (India), Jean Hiss and Robin Apprioual (France), Jihwan Jung (South Korea), Marko Lukovic (Serbia), Marcos Magister and Sebastian Vereertbrugghen (Belgium), Jean-Thomas Mayer (France), Hankil Moon (South Korea), Siriphong Roongruengvuthikul (United Kingdom), Petar Vukovic (Serbia) and Emre Yazici (Turkey).
"The Michelin Challenge Design competition celebrates and promotes innovation in vehicle design and passion in design, which has been a part of Michelin's culture since our company was founded," said Thom Roach, vice-president of original equipment marketing for Michelin North and South America. "We congratulate the winners on communicating their personal signatures and passion for the future through their Michelin Challenge Design entries."
The three highest-placed winners have been invited to attend the North American International Auto Show (NAIAS) as guests of Michelin and will be recognised during the tyre maker's annual private Designer's Reception. Michelin will display the designs of all 15 winners at January's 2015 NAIAS in Detroit.
"The jury was highly impressed by the creativity and quality of design submitted and we spent considerable time trying to choose the top three from all of the excellent work," said Stewart Reed, Michelin Challenge Design jury chairman and chair of the Transportation Design Department, Art Center College of Design. "Michelin Challenge Design has become a widely known and highly respected design competition and designers realise the opportunity it provides to gain recognition in the design community worldwide through the competition."
Winning entries were selected by eight-person jury of the world's top automotive designers and industry experts. In addition to Stewart Reed, the jury included: Rich Plavetich, general manager, design business, Nissan Design America; Frank Saucedo, director, General Motors Advanced Design Studio; Thomas Sycha, design manager, BMW Group Design, Europe; Freeman Thomas, director, strategic design, Ford Motor Company; Mark Trostle, head of SRT design, Chrysler; Jason Wilbur, manager, Honda Advanced Design Studio; and Damien Michelin, honorary juror, Michelin North America.
Over fourteen years, Michelin Challenge Design has received a total of over 7,300 entries from 118 countries.