Leading roadmarking firm extols the virtues of TPMS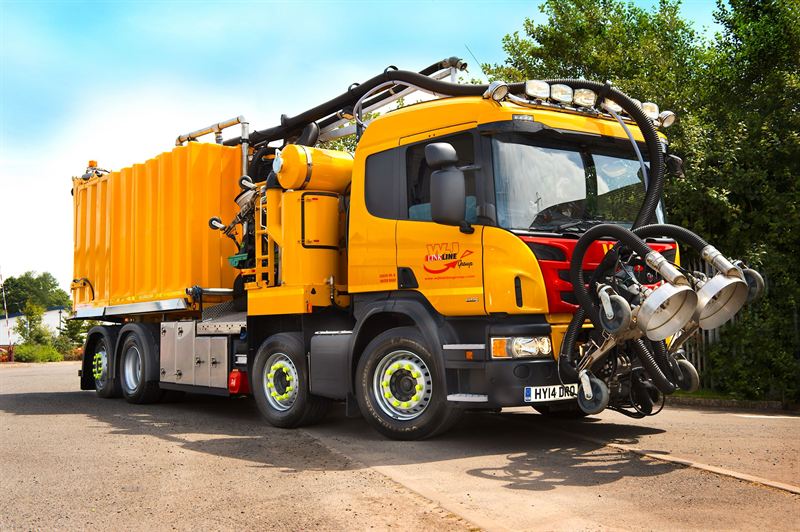 With half a million pounds invested in a new state-of-the-art hydro-blasting machine based on a Scania 8×6 chassis, W J Roadmarkings wanted to take every measure to ensure nothing would disrupt its availability for work. Tyre failure was a major potential problem, especially as the vehicle would be working mainly on road construction sites and rural roads. To overcome this, the UK's leading independent company in both laying down and erasing road markings fitted the Scania with a ContiPressureCheck tyre pressure monitoring system.
"With this level of investment we need to keep this machine working," comments transport and workshop manager, Scott Logan. "And we often work to tight schedules involving road or lane closures, so it's important that the truck is in the right place at the right time. Suffering a tyre failure can be very disruptive and severely impact on our operations and we don't want to let down our customers or road users.
"With the help of Best Tyres of Stoke-on-Trent, who supply our Continental tyres, we fitted the system to our new Euro 6 Scania in the workshop at our Stafford depot. It was quite straightforward to do, with sensors being fitted inside each tyre on the four axles to transmit data on the temperature and pressure to a screen inside the cab," adds Logan. "This gives the driver the assurance that his tyres are at the correct pressure and alerts him to any potential problem, such as a slow loss of pressure that could lead to a complete tyre failure. Because you get an early warning of a problem this enables prompt action to be taken and this may avoid the cost and time involved in fitting a new tyre."
According to the transport and workshop manager, environmental considerations also played a role in the decision to use a TPMS. "As a company we are keen to fulfil our environmental obligations and we know that underinflated tyres can impact negatively on fuel consumption. By using an automated system to supplement our routine tyre checks we can ensure that our tyres are always at the right pressure leading to improved fuel efficiency and the reduced carbon emission levels that go with that. It's a win-win situation."
Along with delivering fuel savings, W J Roadmarkings believes the use of the ContiPressureCheck TPMS system will raise driver awareness of the importance of keeping a check on tyre pressures. Doing so should prevent punctures going unnoticed and therefore stop the tyres being run underinflated which can cause serious casing damage and eventually a tyre blowout – according to Continental, studies show that more than 90 per cent of tyre failures are preceded by slow leaks.
Since its installation on the hydro-blasting machine, the system has already detected low pressure in an inner rear wheel tyre caused by a puncture that would not have been obvious just from a driver's daily visual check. "Our drivers appreciate the system and are now asking when we will be fitting it across our fleet of some 70 vehicles, which include DAF and Volvo trucks," shares Logan. "We already have over a dozen systems either fitted or on order and we will progressively make this a standard feature on all of our trucks."
ContiPressureCheck uses a sensor contained within a rubber container that is glued to the inside of the tread of each tyre. These sensors constantly measure both the temperature and pressure inside the tyre and send the information wirelessly to an electronic control unit, which passes it on to an in-cab display that shows the driver the actual pressure in each tyre and gives both a visual and acoustic warning should the pressure drop below the permissible level.
See also: