Conti presents customised ContiEarth tyres for machinery operating in harsh conditions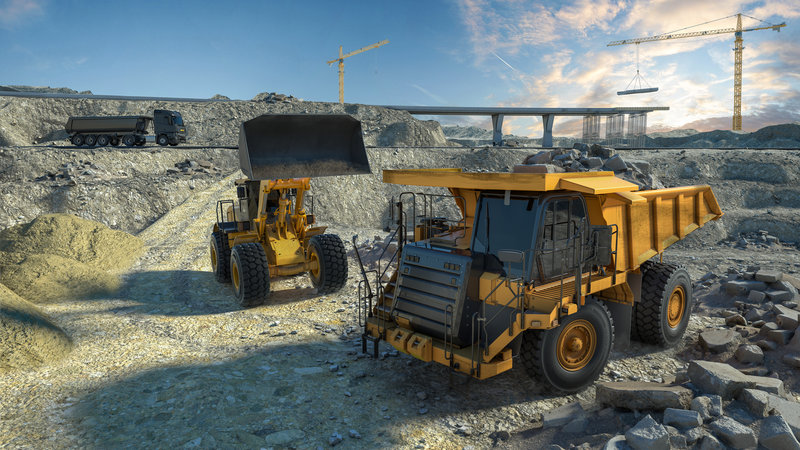 In addition to OTR tyres, Continental has reinforced its digital solutions for the construction business
Continental has continued the process of providing a complete service solution for the OTR segment, introducing a new ContiEarth range of tyres tuned for various applications and its latest tyre monitoring technology for a sector defined by its variable operating conditions. OTR tyres are often used to extract and haul raw materials on gravelly, rocky or sandy terrain, or transport building materials on unpaved roads at construction sites: for these and other applications, they can be mounted on a wide variety of construction vehicles and machinery. Conti took all this into account with the development of its ContiEarth range, a series of OTR tyres, each equipped with a tread pattern tailored for the specific needs and requirements of loaders, dump trucks or dozers used in mining and construction projects. The ContiEarth range consists of two tyre lines – the EM-Master and the RDT-Master.
ContiEarth EM-Master
Continental's EM-Master is customised for articulated dump trucks (ADTs), loaders and dozers used to transport large quantities of bulk or aggregate material in disparate conditions; soft and muddy soil to the gravelly and rocky terrain of construction or mining sites. The tyre is available in two versions with different tread designs.
The EM-Master E3/L3 features a normal tread depth and wide spacing between the blocks. This results in good self-cleaning characteristics, traction, and manoeuvrability even in soft and muddy terrain. The open tread design offers better cooling characteristics and therefore low heat build-up, resulting in a long service life.
Compared with the E3/L3, the EM-Master E4/L4 features a greater block size with less spacing between the blocks. The tyre therefore offers a high level of carcass protection and good cutting resistance, minimising the risk of punctures and downtimes. The smaller tread block spacing of the five-edged block design results in smooth running and good traction even on hard and rocky surfaces. Due to its deep tread design and high wear volume, the EM-Master E4/L4 also offers an excellent service life.
Both the EM-Master E3/L3 and the E4/L4 are available in sizes 23.5R25, 26.5R25 and 29.5R25. The EM-Master E3/L3 is additionally available in size 20.5R25.
ContiEarth RDT-Master
The RDT-Master is designed for rigid dump trucks transporting heavy loads over long distances in rough terrain. These tyres must offer high stability and good traction even at high speeds, as well as being extremely resistant to cuts and tears. The RDT-Master's tread has a deep depth and a wide, flat tread radius, offering high loading capacity and cutting resistance. The angled tread edges, in addition to the open shoulder design, improve self-cleaning and facilitate high lateral stability, which results in better driving behaviour. Maximum traction is guaranteed even on winding terrain and while driving at high speeds. The RDT-Master is available with a standard compound and a cut-resistant compound designed to withstand sharp rocks and stones in rough terrain. The RDT-Master E4 is available in sizes 18.00R33, 21.00R33 and 24.00R35.
ContiEarth is ContiPressureCheck and ContiConnect-ready
Both the EM-Master and RDT-Master are shipped with integrated tyre sensors, which constantly monitor the inflation pressure and temperature of the tyre and transmit information in real time to the ContiPressureCheck and ContiConnect TPMS.
These are not the only tyres in Conti's OTR range to be given some sort of intelligence feature as standard. Referring to such features as building blocks for the future, Continental is reinforcing its digital solutions for the construction business. The company argues that such measures are particularly relevant to the tough conditions faced by tyres in mining and construction sites, where efficiency and safety are extremely important. Underinflated tyres are still a major cause of breakdowns and service calls – Conti states that one third of fleet tyres are underinflated on average. This affects fuel consumption and tyre life, too, meaning a triple impact on companies' bottom lines. With 10 per cent underinflation, tread life is reduced by 15 per cent and casing life by 20 per cent. At 20 per cent underinflation, casing life is reduced by up to 30 per cent. As a result, maintaining correct pressure allows fleets to get full value out of their casings via retreading, in addition to promoting uptime.
Conti's digital TPMS ContiPressureCheck and ContiConnect systems use tyre sensors mounted on the inner liner of the tyre to monitor, analyse and report data, optimising fleet efficiency. These core sensors are also another development of intelligent tyres; constantly measuring temperature and pressure from inside the tyre provides a continuous data stream that can be analysed via dashboard displays, handheld devices, or on a web portal overseeing the fleet. The system's alerts and notifications are designed to steer the fleet's attention to immediate action needs.
Both ContiPressureCheck and ContiConnect have proven their value successfully. For example, construction customers such as BetonMastHæhre, the biggest road construction company in Norway, have shown a high level of satisfaction with both. They tested the solutions with the Continental EM-Master in a remote area in Northern Norway. After this test, BetonMastHæhre also purchased several new 40-ton ADTs with ContiPressureCheck integrated on the display of the machines.
Another test customer from the United States, a hauler of cement powder and fly ash, reported a reduction of tyre-related roadside service calls to zero in the whole eight months of using ContiConnect. CEMEX in the UK have seen a reduction of 43 per cent in out-of-hours call outs for tyres, with the drivers identifying issues on route thanks to ContiPressureCheck. To prove its ability to withstand severe conditions such as extreme heat and speed, ContiPressureCheck has even been tested on the Russian KAMAZ-Master trucks during the Dakar Rally desert race.