Bridgestone exclusive rubber on BMW i8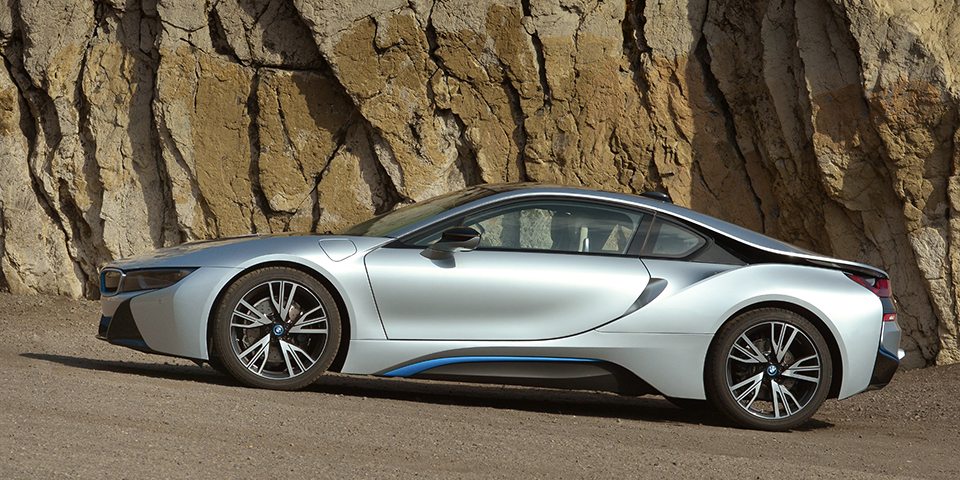 It bears more than a passing resemblance to the M1 of three decades ago and represents something of a sea change in how hybrid vehicles are perceived by performance car fans; such is the popularity of the new BMW i8, UK stocks of the £95,000 supercar sold out within two weeks. New buyers have been informed they face a wait of up to ten months to receive their pride and joy.
So what's the big fuss? Auto Express gives the i8 a 5 out of 5 rating and calls it a "revolutionary plug-in supercar with incredible performance and economy" while Autocar says it is "the first sports car in which you can have your cake and eat it." The 1.5-litre turbocharged i8 engine is sourced from the new Mini and produces 231bhp, and this is paired with a front-mounted electric motor that boosts total output to 357bhp. BMW UK claims the car will reach 62mph (100km/h) from a standstill in 4.4 seconds and then go on to achieve a top speed of 155mph (250km/h), with 120mph (193km/h) the top speed in full electric mode. On their own the batteries offer a range of 23 miles and cut official CO2 output to 49.0g/km, which suffices to exempt the i8 from London's congestion charge.
And now we come to the tyres. Bridgestone reports it will exclusively supply all fitments for the BMW i8, with the tyre maker supplying both an existing version of the Potenza S001 and one specifically developed for the car. Owners are able to choose between the following sizes: A standard arrangement with 195/50 R20 Potenza S001-I 93W XL on the front axle and 215/45 R20 Potenza S001-I 95W XL on the rear, or alternately a 215/45 R20 Potenza S001 95W XL front and 245/40 R20 Potenza S001 99W XL rear axle fitment. Bridgestone says a winter tyre option, the Blizzak LM-32 in 215/45 R20 95V XL, is also foreseen.
"The Potenza S001 has already left its mark on the sports tyre category with its balanced performance resulting in several high-level factory fitments," commented Jake Rønsholt, managing director of Bridgestone Europe's Consumer business unit. "So it is little wonder that it was chosen to equip the i8, a car which is set to revolutionise its own individual category. Delivering true sports performance while still meeting the strict fuel and energy consumption demands of this landmark vehicle has been a tough but rewarding challenge. And we are proud to have achieved such high recognition in being selected as an exclusive tyre supplier by BMW."
Selection as exclusive i8 tyre supplier follows BMW's decision to choose Bridgestone as exclusive development partner for its i3 electric car. The tyre maker says this latest agreement is "further confirmation of the strong, long-term partnership between both automotive pioneering companies, Bridgestone and BMW." Over the past 17 years, this partnership has grown to include a long list of factory fitments, exclusive collaboration with the BMW Driving Experience programme and joint technological developments, such as run-flat tyres.