Kumho US plant to specialise in original equipment tyres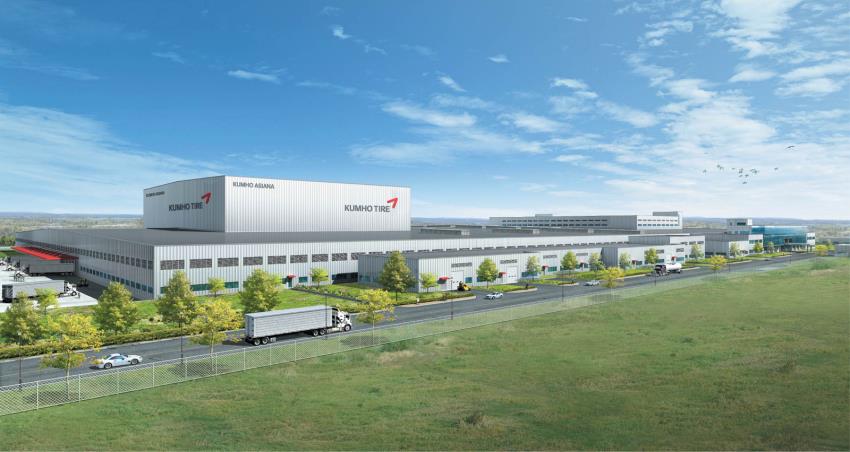 As Kumho Tire announced on 1 July, construction of its facility in the US state of Georgia is recommencing after a seven year delay. The tyre maker says the first tyres will be produced in the US$413 million Macon plant in early 2016, and 100 per cent of the tyres manufactured there will be supplied to OEM customers. Kumho adds that when the 4 million tyres a year capacity plant is complete, the company's overseas manufacturing capacity will be larger than its capacity within Korea.
Kumho is not alone in showing interest in the US – in the second half of 2013 Yokohama broke ground on a brand new plant and Toyo broke ground on expansion work at its White, Georgia facility, while Michelin officially opened its new OTR tyre factory in South Carolina. At the start of this year Continental opened its Sumter plant in South Carolina, and at present Hankook is preparing to start work on a facility in Tennessee. The country may also be chosen as the home for Goodyear's planned new factory for the Americas. This rush to build up a greater presence in the US is hardly surprising when considering that the North American market accounts for around 20 per cent of the estimated 1.6 billion tyres sold globally each year, and is particularly understandable if forecasts published by the Rubber Manufacturers Association are accurate; the RMA anticipates the North American tyre market will achieve an achieve compound annual growth rate (CAGR) of around five per cent between 2013 and 2018.
Cho Jung Seok, Kumho's executive director in charge of strategic planning, stated that "the North American market is a strategic market that accounts for approximately more than 20 per cent of the total sales of Kumho Tire and the construction of the manufacturing plant in Georgia is predicted to quickly elevate the market status of Kumho Tire in the American market in the future." He added: "As we are continuously expanding our tyres supply to the premium end of the completed vehicle range with the North American market as the basis, we expect that our profitability will also be enhanced considerably."