Apollo launches Alnac 4G all season and winter tyres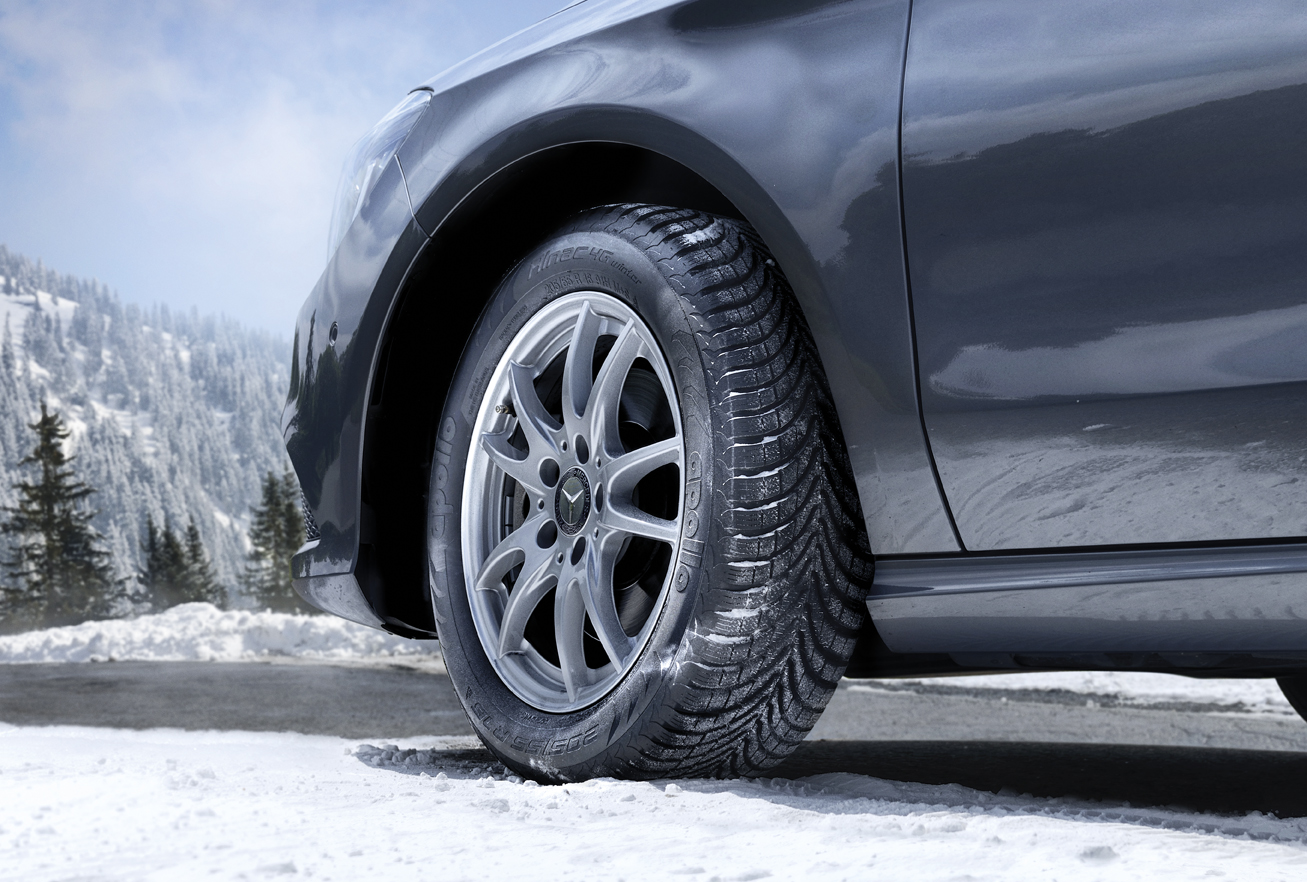 With its sights set on gaining a bigger part of the European tyre market, on 27 May Apollo Tyres introduced two new tyres in Essen. The two new tyres, Apollo Alnac 4G All Season and Apollo Alnac 4G Winter tyres, joined to the existing range of Apollo Alnac 4G tyres being sold in Europe. Both tyres were developed in Apollo Tyres' Global R&D Centre in the Netherlands and have been optimised to suit the requirements of European drivers and the European road network. While this was going on in the foreground, in the background the company has been involved in complex discussions relating to its much publicised plans to build an Eastern European factory. To this end Tyres & Accessories spoke with chief marketing officer Marco Paracciani. But first the new products…
New Alnac 4G All Season and Winter
The Apollo Alnac 4G All Season has been designed for people who don't want to switch between summer and winter tyres, yet would like optimal safety in all seasons. To this end the asymmetric shape of the outer longitudinal groove is designed to give extra stability when driving, while the optimised stitch pattern of the shoulder blocks of the tyre ensures low sound levels. The variable groove depth contributes to an even wear pattern and a longer tyre lifespan. The reduced tyre weight offers a low rolling resistance, which has a positive effect on fuel efficiency, the environment and the wallet. The Apollo Alnac 4G All Season tyre available in September/October in H & V rating, making it suitable for speeds of up to 240 km/h.
The Apollo Alnac 4G Winter is designed to easily handle winter conditions in Western and Central Europe. The combination of straight sipes in the central part and flattened sinus sipes on the shoulders contributes to excellent handling on straight roads and round bends. Furthermore the Winter variant is also said to perform well when it comes to accelerating and braking on snow and ice.
The tread includes the Apollo Winter Tyre Wear Indicator. When the indicator changes its shape from a snowflake to a sun, this means that the official minimum tread depth for winter tyres of 4 mm has been reached. The tyre provides superior grip and low sound levels, which translates into maximum safety and comfort. The Apollo Alnac 4G Winter has a T and H rating, which means it is suitable for speeds of up to 210 km/h.
Chief marketing officer Marco Paracciani explained how marketing and production work together towards both OE and replacement sales growth
Factory investment and marketing growth update
In order to get the latest update on Apollo's factory expansion plans, and other developments, Tyres & Accessories spoke with chief marketing officer Marco Paracciani. According to the CMO the expansion plans come as part of a suite of measures. Work done in Enschede has taken this plant from 5 million units per annum to 6.2 million units a year capacity. There is still the option for a total of 7 million units, but due to the size of the plot and town planning restrictions, there isn't any endless supply of options for this location to grow larger.
With this in mind you can see why Apollo has "resuscitated" organic growth plans it had embarked on before the failed Cooper takeover bid of 2013. Executives have openly confirmed that the plan is for Eastern Europe site before adding something in South Easter Asia but further details are hard to come by. What is clear is that the plans for the Eastern European factory are the most advanced of the options and that here OE is clear intention.
Paracciani refused to be drawn on where the new Easter European location would be judging by the way Hungary and Slovakia were spoke about along with "Poland and one or two others" it was clear in back in May that there was a shortlist of two. Company chairman and chief executive (Onkar Kanwar and Neeraj Kanwar) have since confirmed as much duing June's Vredestein product launch.
However despite earlier reports in the first part of June suggesting that Apollo told T&A the company "is yet to finalise the exact location" for its factory:
"The Board of Directors at Apollo Tyres, at a recently concluded meeting, approved the greenfield in Eastern Europe, at a project cost of approximately 500 million euros over the next four years, funded with accruals and debt at the company's European subsidiary. The planned capacity is expected to be 16000 passenger car tyres and 3000 truck bus tyres per day. The company is yet to finalise on the exact location for this Greenfield facility."
Therefore we know what we knew – that there would be a 500 million euro factory in Eastern Europe and that it would be a greenfield site producing car and truck tyres – but we are none the wiser as to where it will be. The fact that Slovakian officials are saying it is not there is likely to be significant and there are many reasons why Hungary is a good option, but it is clear that talks are continuing and nothing concrete is in place.
However, in order to make the continuous OE and overall strides forward that Apollo's leadership desires, strong marketing is required. For decades Apollo Vredestein (or just Vredestein as it was before the takeover in 2009) that it has a flair for marketing. This all went to a higher level when in last year the company announced that it is sponsoring Manchester United. However the well-known team had one of its worst seasons for decades this year. So, roughly a year after that deal was signed, is the company going to change tack?
In a word, no. Speaking at Essen and then a month later in Edinburgh, Paracciani was consistent that the company has decided to sponsor Manchester United after careful consideration and the company. In essence the deal is certainly not a one hit wonder, but rather it is a question of ongoing partnership and the mutually positive impact of brand association. Indeed the deal has actually been extended to include the Netherlands during the course of the last year.
So how is the company's product, marketing and soon enhanced manufacturing capacity playing out in terms of sales? In answering this question Apollo brand manager Abishek Bisht and Marco Paracciani told a very positive story. Based on an April to March fiscal year, the executives reported that the market in general was beginning to pick up following the recession and that Apollo's sales are significantly outperforming this recovery. To put this in some kind of context, the Apollo representatives shared these details: While the European market is said to have grown 5 per cent in the period sampled, Apollo has actually seen growth of around 17 per cent. During the same period market share is said to have doubled, suggesting that are indeed growing fast. In must be said that these figures refer to all Apollo Vredestein brands, but double digit growth is almost always impressive.
As far as the executives Tyres & Accessories spoke to are concerned, the addition of new products like the Alnac four season and winter variants in combination with ramped up marketing activities and large scale production investments  are designed to keep this trend going for some time yet.