Infinity to launch performance SUV, studded winter tyres at Reifen 2014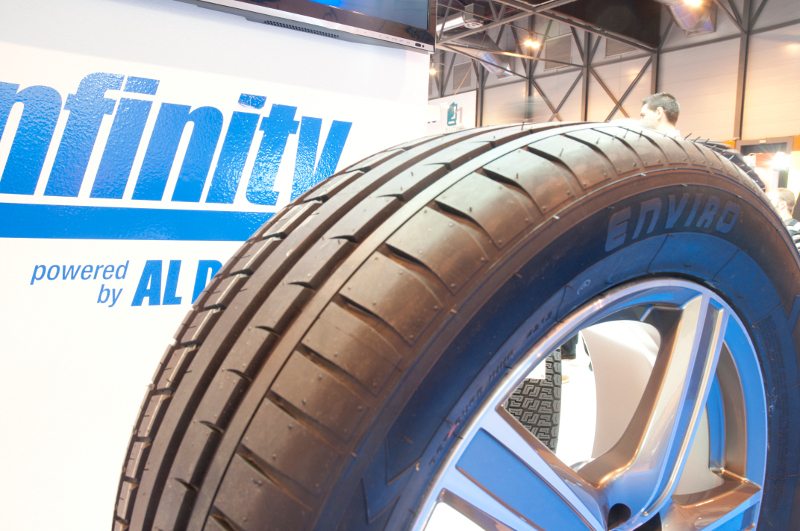 Infinity Tyres has announced that its Reifen 2014 stand will feature four new passenger car tyres, including an SUV tyre in high performance sizes and a studded winter tyre. The new tyres will join the Ecomax and Ecosis PCR tyres launched in 2013 as products focused on the performance characteristics demanded on the European market. Infinity will display all of its products on Stand 3C10 at Messe Essen.
The new tyres cover PCR applications outside those to which the Ecomax and Ecosis lines cater. Ecopioneer is the new Infinity tyre designed for 13" and 14" commuter cars, while the Ecovantage is a brand new commercial van range. The two other products represent new applications previously uncovered by Infinity: the Enviro is Infinity's first ever high performance SUV tyre, following the lead of Ecomax in expanding the brand's UHP credentials in 16" to 19" fitments. Reifen visitors will also see the Ecosnow, Infinity's debut offering in the studded tyre market. The brand says the new winter tyre has undergone "extensive testing in the Arctic Circle and design improvements to meet the latest EU legislation requirements." Infinity adds that it looks forward to its first season of engaging with dealers and drivers in the most demanding winter tyre markets.
The brand will also display its expanding agricultural range together with its existing truck and bus tyre programme.
Jorge Crespo, general manager for Infinity Tyres Europe, added: "We are more excited than ever about this year's Reifen Essen and we look forward to engaging with both new and old friends and associates. The product display will show just how serious we push our ambitions for the European market and how we focus our efforts on producing the very best possible product for these driving conditions. Summer, winter, tarmac or field, Infinity has the complete offering for European customers."