New charger offers 100% charge in all weather, says Exide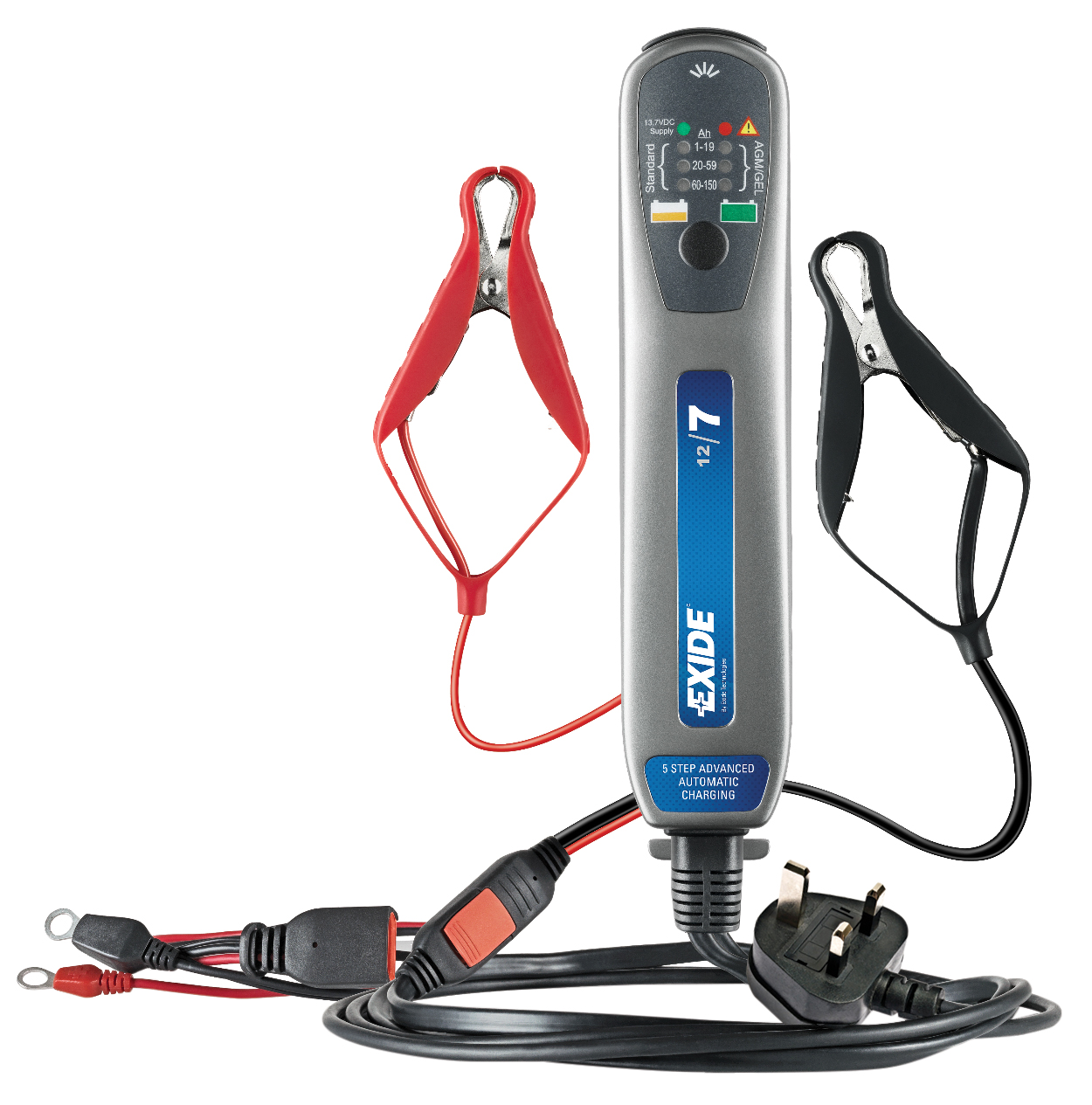 Exide has launched the 12/7 Battery Charger, a unit it says is specifically designed to always achieve 100 per cent charge, even in extreme weather. The 12/7 works for all types and sizes of 12v batteries, including those for cars, motorcycles, boats and caravans. The unit is aimed at both consumers and professionals.
The Exide 12/7 is the first consumer charger on the market with a temperature sensor fitted directly into the negative clamp. Chargers typically only take the temperature of the room, which often gives inaccurate results – particularly in hot and cold climates. The temperature is monitored throughout the charge and voltage is constantly adjusted. Temperatures from −40 to +50 degrees Celsius are supported.
Most battery chargers follow the same charge curve for AGM, flooded and GEL batteries. The Exide 12/7 uses optimised charge curves that respond to the type of battery being charged, which leads to perfect results across the board. Cut-off is calculated using both time and current – another important factor in achieving 100 per cent charge.
"The 12/7 charger is optimised for perfect performance, even in the harshest conditions. The breakthroughs around charge curves were critical to making that happen," said Craig Everett, UK marketing manager, Exide Technologies. "The charger is a great complement to our existing portfolio. It makes batteries last longer and perform better – even those from other manufacturers."
The Exide 12/7 has a 13.7v power supply capable of powering some diagnostic procedures and initiating charge to discharged batteries. It also has a boost of 15.5v in every charge if cold, making it ideal for cold charging. The current industry standard is 14.7v or 15.1v. The 12/7 is also equipped with overcharge protection and anti-spark technology which protects against faulty batteries and connections.
Exide is an OE battery supplier to top brands like Ford, Fiat and BMW. The company is widely credited with having the most advanced technology in the industry, with R&D facilities in Spain, Germany and the United States.