Hämmerling sees 'excellent opportunities' in Africa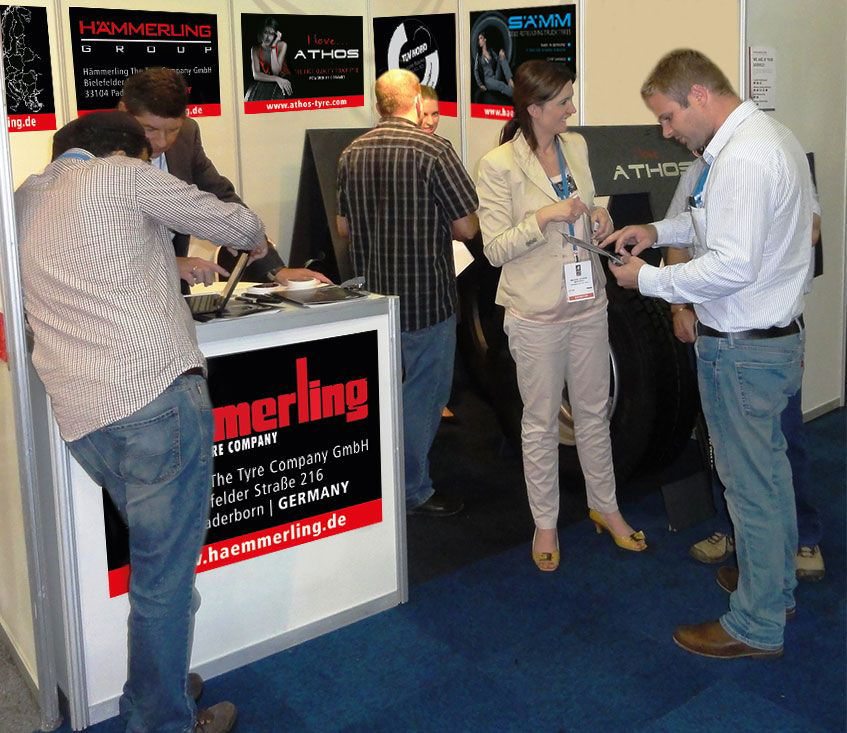 German wholesaler the Hämmerling Group reports a positive response at this month's Tyrexpo Africa show in Johannesburg, with considerably more dealers, wholesalers and forwarding agents visiting the Hämmerling stand during the three exhibition days. A focus for Hämmerling at Tyrexpo Africa was its Athos and Mäxx truck tyres, Talas steel truck rims and Sämm truck retreads.
"We are delighted that the Athos and Hämmerling brands are already well-known in Africa and that we were able to gain even more publicity for our products," comments managing director Ralf Hämmerling. "This is proven by countless discussions at the trade show and the specific requests coming in before and after the event."
This year is the second time the Hämmerling Group has been present at the Johannesburg show. The company says it decided to showcase its products at Tyrexpo Africa as it has witnessed an increase in demand for quality products with a good price-performance ratio in Africa and thus anticipates a favourable reception on the African continent, especially for the Athos and Talas brands. "That's why we see excellent opportunities there," says Ralf Hämmerling. He is particularly encouraged by the number of wholesalers in the region who expressed strong interest in collaborating with European partners. "For this reason, the contacts we were able to establish or intensify during the trade show were extremely valuable."
Hämmerling adds that the reputation that German products and companies enjoy in Africa is helping the wholesaler within the region; indeed, he notes that many he met with at the show commented to this effect. He says visitors at Tyrexpo Africa were particularly impressed with the Athos range due to its price performance ratio and TÜV certification. The Athos brand was first launched in January 2008 and is now sold in a number of countries. To help promote the Athos private brand and range, in February the Hämmerling Group launched a dedicated, multilingual Athos website, www.athos-tyre.com.
Tyre wholesaling is only one component of the Paderborn, Germany-based Hämmerling Group's operation. The Group combines various companies and service providers in the tyre and logistics industries, which in addition to wholesale includes company-owned production facilities for truck retreads, a shipping company with five locations across Europe, a tyre and truck service centre plus an IT service provider and a marketing agency. The company has a workforce of 400.