Conti extends 3G commercial range to goods haulage sector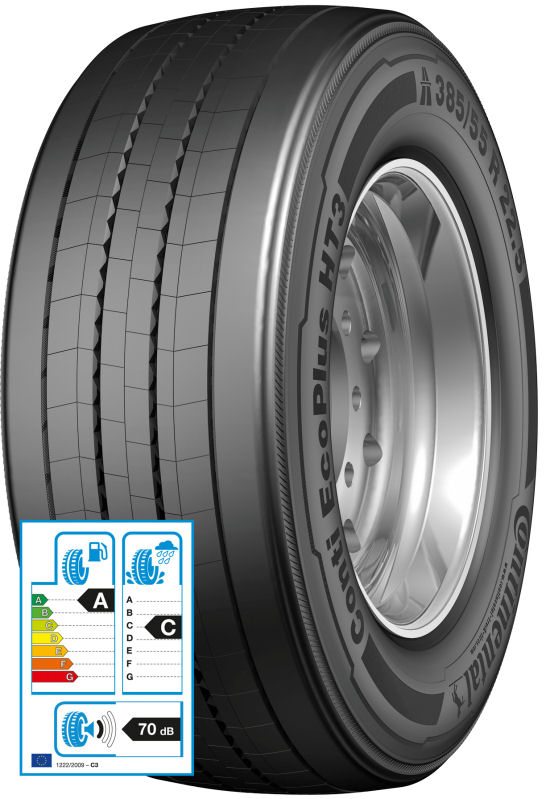 Last year, Continental introduced the first tyres in its third generation commercial vehicle range. These initial products, the HA3 Conti Coach, Conti CityPlus and the Conti Urban, catered to passenger transport, and now the manufacturer has followed up with the launch of its first 3G tyre for the goods sector, the Continental EcoPlus HT3 trailer tyre.
The Conti EcoPlus HT3 is suited for use on both trailers and semi-trailers, and Continental calls it the "vanguard of a completely new truck tyre family" that it will launch in 2014. As trailer tyres contribute to around 60 per cent of total vehicle rolling resistance, maximum cost-efficiency – both through lower rolling resistance and long service life – was a stated developmental priority for the new tyre and both the tread compound and pattern used were rolling resistance optimised.
The tread compound has a two-layer construction, with the cap compound ensuring optimal contact with the road surface for long service life and the tread base compound on the four-layer triangular belt casing reducing heat generation in the crown to minimise rolling resistance. The tread pattern features four longitudinal grooves and what Continental calls the 'Fuel Saving Edge', which provides a low void contact area. The tyre maker says that rolling resistance in the size 385/55 R 22.5 version of the Conti EcoPlus is more than 25 per cent lower than that of its predecessor. The new tyre achieves an 'A' EU tyre label rating for fuel efficiency in this size and size 385/65 R 22, while the size 385/55 R 19.5 fitment has been given a 'B' rating. All three sizes are 'C' rated for wet grip.
Elaborating further on the tread pattern, Continental says the pyramid-shaped triangular bars in the base of the tread grooves stabilise the Conti EcoPlus HT3 against flexing in the tread area. Closed ribs provide a wide contact area and a circumferential, continuous shoulder is there to give optimal straight line stability and prevent distortion, especially during the manoeuvring tasks typically demanded of trailers.
The Conti EcoPlus HT3 has a rolling noise of 69 dB(A), which Continental points out makes the tyre one of the quietest  in the truck sector. Like all tyres in the third generation commercial range, the Conti EcoPlus HT3 has a retreadable and regroovable casing with steel cord chafer enhanced beads and the patented 'AirKeep' inner liner to prevent gradual loss of inflation pressure.