Burst tyre leads to 'toilet paper moment' during Pirelli testing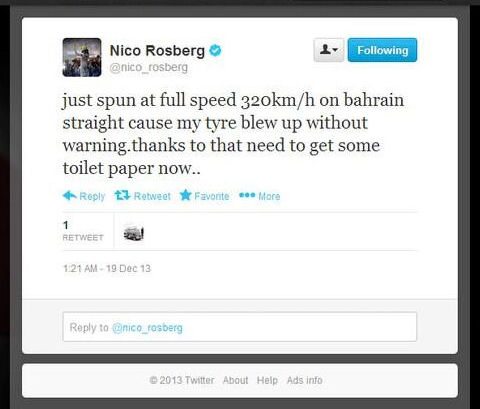 Should Nico Rosberg speak of 3-ply, he may not be referring to tyre sidewall construction. During the testing of Pirelli's 2014 F1 tyres at the Bahrain International Circuit, the German Mercedes AMG Petronas team driver experienced a tyre blowout on the straight at 320km/h. Despite a total absence of test information from Pirelli, Rosberg shared news of the mishap via a short-lived tweet.
"Just spun at full speed 320 km/h on Bahrain straight cause my tyre blew up without warning. Thanks to that need to get some toilet paper now…" he wrote.
The tweet was quickly deleted, or perhaps we should say wiped, from Rosberg's Twitter account. But not fast enough to prevent it from becoming public knowledge. Pirelli has not commented on Rosberg's blowout or subsequent tweet, however news of tyre failure is publicity the F1 tyre supplier could certainly do without following the tyre failures experienced by drivers during the 2013 season. After what was arguably the most notorious of these – Lewis Hamilton's blowout at Silverstone in June – the British driver shared that it was "the first time in my whole career I've felt the danger".