Lorenzo's Japanese domination takes MotoGP championship to decider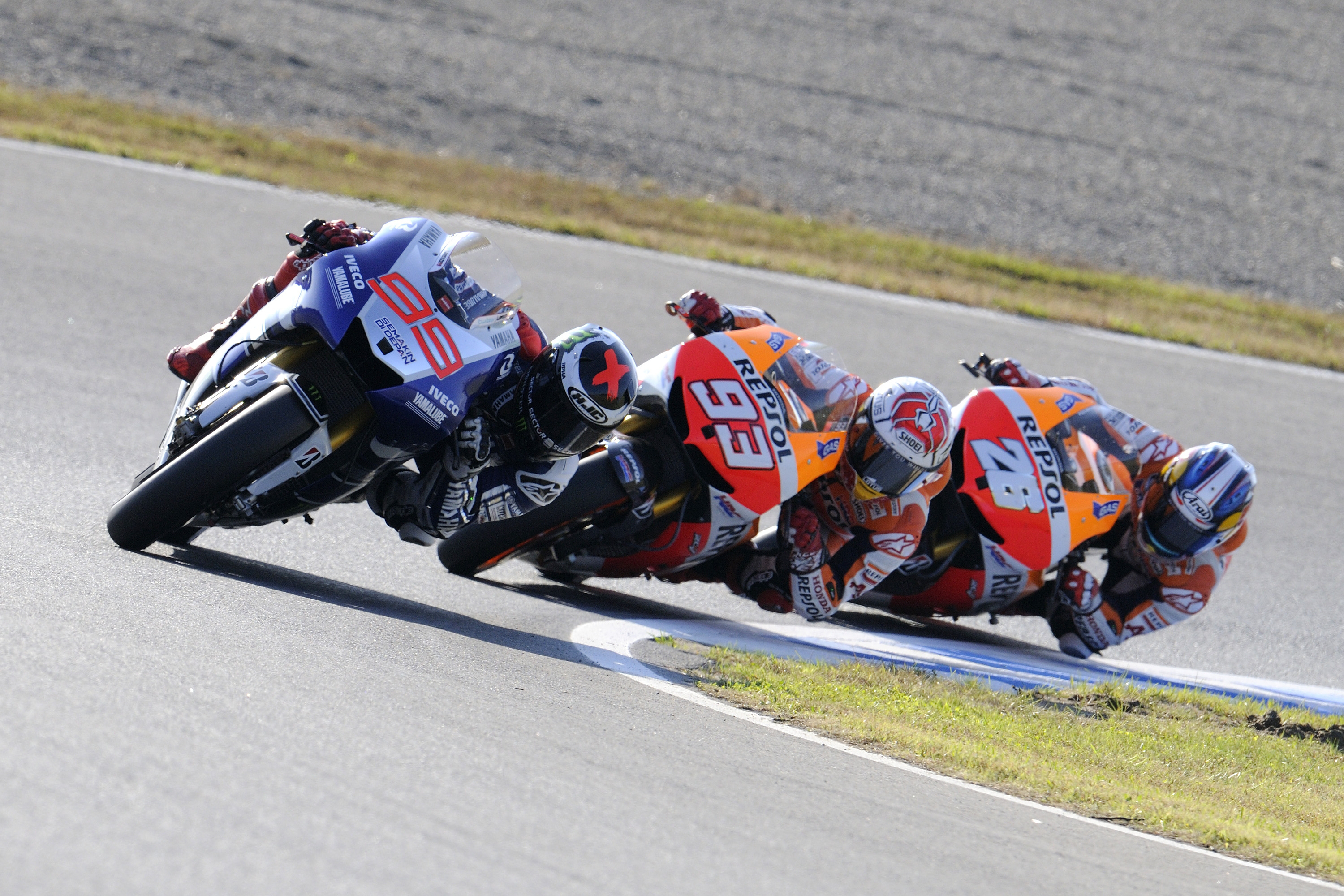 Jorge Lorenzo's victory at the Japanese Grand Prix at Motegi means the Yamaha Factory Racing rider has set up an intriguing final round in Valencia, where the championship leader, Repsol Honda's Marc Marquez will seek to fend off Lorenzo's challenge. Marquez finished second in Japan, limiting the extent to which Lorenzo could close the gap at the top; a similar finish in the last of three rounds held in both riders' home nation would present Marquez with the title. Shinichi Yamashita, general manager of MotoGP supplier Bridgestone's Motorsport Tyre Development Department, said he was happy with the performance of the manufacturer's softer allocation this year, despite the lack of time to practice due to rain.
Yamashita said: "It was a very busy day for the teams and our tyre engineers who had very little time to work together to find the best race tyre for each rider in this morning's extended warm up session. With temperatures becoming warmer this afternoon and the need for excellent braking stability at this circuit, it was no surprise to see that the harder front slick option was selected by almost every rider. For this year at Motegi, we shifted our rear slick allocation one step softer to give the riders more suitable tyre options for the race and this was a success, with both rear options working very well here today. With all the disruption due to the poor weather Friday and Saturday limiting the amount of dry track time, I am really happy with the tyre performance at Bridgestone's home race here at Motegi."
Jorge Lorenzo said taking the win "at Honda's 'home circuit' and winning Yamaha's two-hundredth MotoGP victory was a pleasure. It was also a good result for me as I took a gamble with my tyre choice as I chose the softer rear tyre. It was a hard race physically, but I kept my concentration and I really wanted this victory."
Lorenzo upped the pace in the middle stages of the race – setting the fastest time on lap sixteen – to streak away and win the race by 3.188 seconds.  Marquez claimed second place ahead of teammate Dani Pedrosa who finished in third place to ensure two Repsol Honda's on the podium. The top CRT finisher at Motegi was NGM Mobile Forward Racing's Colin Edwards in twelfth place.
Masaaki Tsuya, CEO and representative board member concurrently chairman of the Board, Bridgestone Corporation, stated: "I'd like to extend my warmest congratulations to Jorge and Yamaha Factory Racing for taking such a special victory at Motegi today. I'm glad that the spectators that were present at Motegi today go to watch such an impressive race under clear, autumn skies. I am honoured that Bridgestone is able to support and participate in such a wonderful racing series as MotoGP as the official tyre supplier. We look forward to the last race of this year's MotoGP world championship where Bridgestone will once again provide fair and equal support, and the highest level of product and service to every rider and team in the paddock."