Kings Road Tyres adapts brand strategy with new Tianli, Maxam deals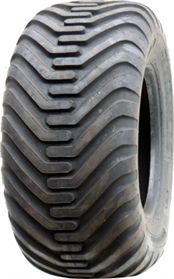 Kings Road Tyres (KRT) has adapted its brand strategy to meet customer needs in 2013, saying the key to success in demanding market conditions is to meet the changing needs of trade customers. With this in mind, the wholesaler has recently launched new distribution deals with Chinese OTR manufacturer Tianli, and with Luxembourg-based construction and industrial pneumatic tyre supplier, Maxam.
KRT is already one of the UK's leading distributors of agricultural tyres, but made the decision to extend its offer further with the introduction of 14 new trailer tyres from Chinese OTR manufacturer Tianli. "Tianli is a well-established manufacturer of specialist OTR and agricultural tyres which offer UK customers a cost-effective alternative fitment option in a range of popular size and tread patterns," explains KRT's purchasing and marketing manager, Tim Bader.
In addition to its Tianli distributorship, KRT is also an appointed distributor for Michelin, Kleber, Firestone, Goodyear and Trelleborg AGR tyres, along with exclusive UK distribution for Taurus and the new Linglong Radial Drive tyres.
Luxembourg's Maxam Tire appointed KRT as its exclusive construction and industrial pneumatic tyre range dealer for the UK and Ireland. Speaking of the appointment, Maxam's CEO Ian Thomas said: "It is Maxam's policy to try and work with companies that are the best in their class and we are delighted to welcome KRT to our global network of distributors. I am confident that they will greatly enhance Maxam's presence in the UK and Ireland"
KRT's managing director, Adrian Bader, commented: "We are pleased to add Maxam construction tyres to our product portfolio; KRT specialises in offering its customers top quality, value-for money tyres and there is no doubt that Maxam fits this bill perfectly."
Maxam tyres are highly engineered products, designed to offer outstanding performance and long life in even the toughest conditions. Ian Thomas said: "Customer satisfaction is vitally important to Maxam, which is why our tyres are subject to stringent quality checks throughout the manufacturing process. We know how expensive and frustrating downtime can be, which is why our tyres are designed to perform perfectly, day after day."
Click Page 2 to continue reading below