Tag: Modern Tyre Service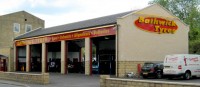 In last year's ranking of the top tyre retailers in the UK, Tyres & Accessories predicted that the pace of change in the top 20 chains by branch count would result in some jostling for position. This has proved entirely accurate, as two major acquisitions have brought two of 2017's top 20 into the fold of higher ranked companies, leading to both Micheldever/Protyre, leapfrogging HiQ into fourth place as predicted last year, and Lodge Tyre, into the top 10 from joint-14th last year, making significant jumps in this year's table. Most other retailers have held relatively stable positions in terms of the number of stores, while our most recent additions to the table, Eden Tyres (15 stores) and Elite Garages (13) were identified as narrowly missing out on places last year.
Following the publication of our latest coverage of the development of tyre retail business in the UK in the May issue of Tyres & Accessories (see "Mind the gap: UK retailers continue right-sizing" online and in the print edition), it has come to our attention that one company that has grown into a significant position of influence within the market during the last few years was overlooked.