Tag: Automotive Technician Accreditation
National Tyres and Autocare, one of the largest independent fast fit tyre specialists in the UK are pleased to announce that they have been approved to deliver the Automotive Technician Accreditation (ATA) in Light Vehicle Inspection. National's ability to provide rigorous quality training and development was at the core of the approval granted by the Institute of the Motoring Industry (IMI).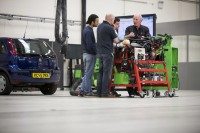 The Institute of the Motor Industry confirmed it will be changing the title of Automotive Technician Accreditation (ATA), along with Automotive Management Accreditation (AMA), to 'IMI Accreditation' as part of the IMI's brand overhaul. ATA was first established in 2005 to act as a voluntary licence to practise for the automotive sector and takes the form of practical and knowledge based assessments designed to test the current competence of an individual in their job role.