Tyre treads promote beach safety in RNLI campaign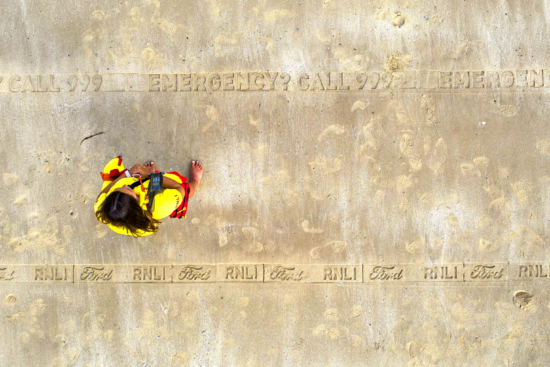 On Sunday 21 August 2022, the Royal National Lifeboat Institution thanked its partners at Ford UK for the continuation of its "tide tracks" campaign raising awareness of key beach safety advice. For its part, Ford fitted custom tyres onto some lifeguard vehicles in order to leave key water safety messages pressed into the sand via bespoke tyre treads.
Writing messages in the sand is a long-standing seaside tradition and inspired Ford to create a way of spreading water safety messages quickly across miles of beaches using its vehicles. The tide tracks campaign, as it is known, began in 2020 but continues today.
The custom tyres are made from a mould of each water safety message. The mould creates a rubber tyre sleeve that is wrapped around the Ford Ranger tyre tread and fixed into place permanently. No details of where the extra-tread was applied have been released, but it is clear from Ford's promotional video that the tyres in question on the initial test vehicle were made by Continental.
Speaking when the campaign began, Andy Barratt, managing director at Ford of Britain said: "We've been delighted to continue supplying vehicles to the RNLI, and support the outstanding work they do to keep us all safe. It's very exciting to see our Ford Ranger being used to spread these important water safety messages".
Ford is the official vehicle supplier to the RNLI. Since 2018, Ford has provided the RNLI with over 350 vehicles, including the Fiesta, EcoSport, Focus, Kuga, Transit, Transit Connect and Transit Customs plus the Plug-in Hybrid Electric Vehicle (PHEV).