All-season camping: Michelin launches addition to CrossClimate range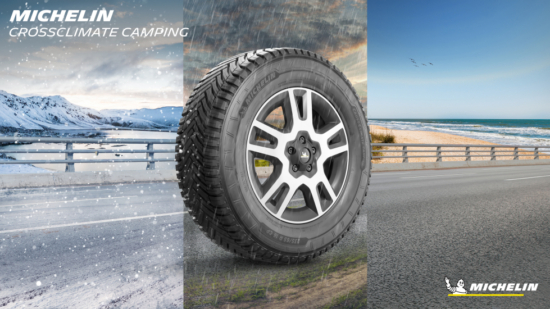 From 1 March, motorhome drivers keen to extend the camping season beyond the summer months have a new tyre option in the form of the Michelin CrossClimate Camping. By summer 2022 Michelin will offer the tyre in eight dimensions, a line-up that covers 99 per cent of the market.
Michelin says that following the launch of its CrossClimate 2 car tyre, it wanted to extend its four-season range into a growing market segment. Introducing the new addition, the tyre maker says the "Michelin CrossClimate Camping tyre has been designed to be used in complete safety all year round." It adds that "this four-season tyre, A rated for grip on wet ground according to European labelling, provides safety and simplicity to motorhome users."
The launch of an all-season campervan tyre is of particular interest to anyone travelling in countries with specific tyre-related winter requirements or advisories. Michelin also sees potential for the CrossClimate Camping in markets where motorists are flocking to all-season tyres to avoid an otherwise obligatory seasonal tyre change. "Certified 3PMSF for driving on snowy roads, it guarantees the driver control of the vehicle under most weather conditions," comments the manufacturer.
Deformation resistance
Discussing the nuts and bolts of the CrossClimate Camping's development, Michelin shares that engineers from its R&D centre in Ladoux, France worked on a problem unique to motorhomes: They typically aren't driven every often and are left parked for prolonged periods.
When a motorhome remains stationary for a long time, the weight of the vehicle, which may be distributed unequally, can deform the tyres. Thanks to its engineering team's work on the tyre casing, which is identified as a campervan tyre by the ETRTO standard CP mark, Michelin assures that the CrossClimate Camping "has been designed to offset these stresses." Furthermore, compared with the old generation Michelin Agilis Camping, CrossClimate Camping's reinforced sidewalls provide greater resistance to damage encountered whilst driving.
Control on all surfaces
CrossClimate Camping has a similar v-shape tread as other members of the CrossClimate family. Michelin refers to this all-season pattern as 'Michelin V-Shaped Technology' and explains that it combines wide rubber blocks and large grooves to allow for driving on both dry and wet, and even on snowy ground. This technology allows for manoeuvrability on various surfaces, such as grass, mud, gravel and dirt.