Continental developing pantographs for 'trolleytrucks'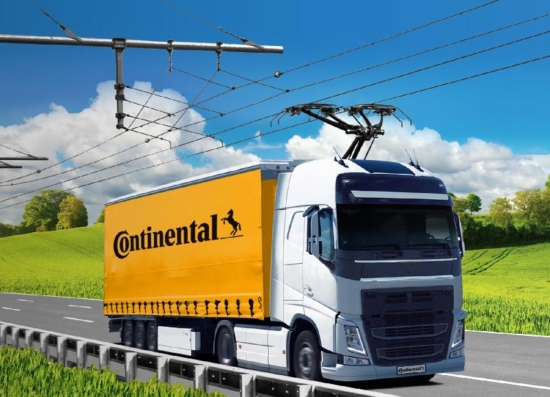 Trolleybuses may be long gone from our roads, but the concept behind them is once again being evaluated, this time for HGVs: Although numerous governments and major truck manufacturers are exploring liquid fuel cell technology as a means of reducing CO2 emissions in road freight transportation, Germany is additionally considering an entirely different approach, with a government advisory body recommending railway-style overhead lines along 2,500 miles of its autobahn network. It is still uncertain whether the country will greenlight this unique solution, but automotive systems firm and tyre maker Continental shares that it's already working to develop pantographs for the system.
Continental's development and production service provider, Continental Engineering Services (CES) will collaborate with Siemens Mobility in the development and production of pantograph equipment. Both companies – CES as a development and production service provider for sophisticated automotive technologies and Siemens Mobility as a specialist in rail electrification – are pooling their expertise in order to achieve volume production of current collectors quickly, thus making them available for widespread use in Europe.
The eHighway technology uses cables on heavily-frequented stretches of motorway to power trucks equipped for electric propulsion, be it hybrid, fuel cell or battery. Trucks can thus drive completely electrically while also charging their batteries without consuming fuel. "We are transferring the principle of rail electrification to the road. The current collectors will be developed and produced in accordance with automotive standards. The partnership between Continental Engineering Services and Siemens Mobility is a major step toward climate-neutral freight transport," explains Dr Christoph Falk-Gierlinger, managing director of CES.
The eHighway is currently being trialled at three sites in Germany. The country's Ministry of Transport and Digital Infrastructure supports the scaling of overhead lines for long-distance transport in innovation clusters, and intends to implement large pilot plants by 2023.