Speed in corners – Maxxis MaxxCross MX-SM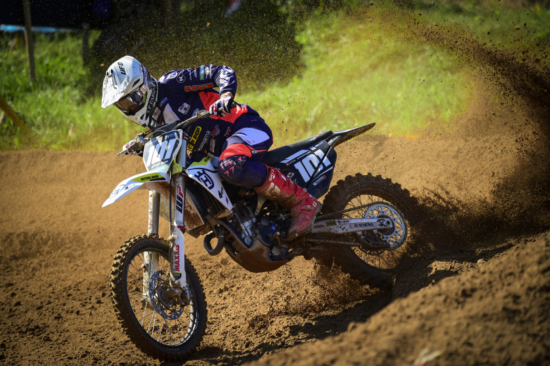 Maxxis shares that its new MaxxCross MX-SM sand motocross tyre – a product "designed to offer the performance expected by professionals" – is now in stock. The tyre is distributed by Bickers in the UK.
In order to excel in sandy and muddy conditions, the tyre maker developed this 110/90-19 rear tyre with a reinforced scoop or paddle-shaped centre block. Maxxis explains that this provides "the ultimate traction in sand or mud, propelling the rider forward throughout the duration of a sand track or beach race."
The shoulder blocks stand extremely proud of the base of the tyre. Noting that they're "quite a thing to behold," Maxxis posits that blocks such as these "provide insane confidence" in sandy corners where riders would otherwise have to stay off the throttle until exiting the corner. "Thanks to this extreme cornering traction, riders who choose the MaxxCross MX-SM find speed in corners their competitors can't."
Maxxis describes the tyre's compound as aquaphobic, hardened rubber that lends itself to good self-cleaning properties and high durability for everyday riders.
Affordable, high-margin solution
"Ideal for dealers who cater for professional riders who frequently visit sand tracks or partake in beach races, these tyres are also an affordable, high-margin solution for dealers within a comfortable radius of a UK-based sand track," the tyre maker adds.
Andrea Bonasorsi, EMX125 champion in 2020, used the MaxxCross MX-SM on sand tracks during the MXGP and supporting series, as did Mattia Guadagnini and Federico Tuani, who respectively achieved silver in the EMX250 and EMX2T championships. The list of MX-SM riders also includes Ruben Fernandez and Brian Bogers, who respectively finished 9th and 10th in the MX2 and MXGP championships.
The final word comes from Alberto Forato, who despite missing multiple rounds due to a shoulder injury finished 16th in last year's MX2 standings: "When we get to a sand track, I really notice how the MX-SM has been designed for sandy terrain, and I can trust both tyres to deliver the results they were designed for."