Bridgestone optimising rubber yields with big data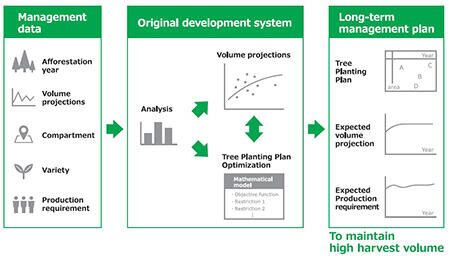 According to OECD estimates, the world will be home to more than 2.4 billion cars by 2050, around a billion more than exist today. This significant rise in the global vehicle parc will result in much higher demand for the raw materials needed to manufacture tyres. Bridgestone has turned to big data to help optimise rubber yields, and reports developing a system that leads to higher long-term yields.
Rubber farms deploy different clones of trees across vast areas and face various management issues, such as how to optimise the number of trees in a planting area and finding the best procedure for harvesting. Bridgestone explains that its newly-developed system assists by seeking an optimal tree planting plan for the next 30 or more years, a plan that improves and stabilises the plantation's yield. Following this optimal plan enables growers to deliver a more sustainable and stable supply of natural rubber.
When developing the system, Bridgestone drew upon academic advice from the Institute of Statistical Mathematics within Japan's Research Organization of Information and Systems. The system employs a mathematical model that incorporates a multitude of factors, including soil health, disease management and cloning potential. The specifications of the final model are based upon Bridgestone's own expertise in rubber farm management.
Determining where, when & how many
Utilising this model in conjunction with yield projections derived from data supplied by rubber tree farms, including time series yield data and spatial farm data, the system uses a mixed-integer programming approach to determine which clones of trees should be planted as well as when, where and in what quantity they should be planted in order to maintain a high yield of natural rubber.
Going forward, Bridgestone will further customise the system before offering it for use at other farms, thereby contributing to a sustainable and stable global supply of natural rubber.