Launch Pro 5 designed to speed up diagnostics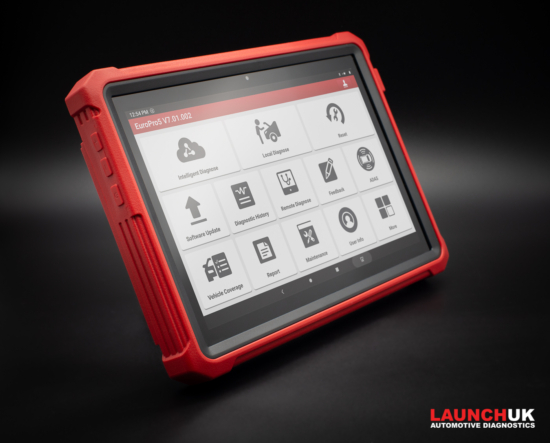 The Launch X431 EURO PRO 5 PLUS is Launch UK's latest addition to the market, based on the most up-to-date Android OS 9.0. It comes in a robust carry case with all necessary leads and a wide selection of legacy OBD 1 adapters.
The PRO 5 also supports the HD3 Truck module and Launch ADAS and ADAS Dynamic system as options. Furthermore, a key feature of the new PRO5 Plus is a fully integrated version of the Haynes PRO Electronic module.
Launch 'Intelligent diagnostic' features automatic VIN recognition for over 70 manufacturers, automatically identifying the vehicle model and year of manufacture through the VIN number, which is faster and more convenient than manual selection.
Diagnostic trouble codes (DTCs) are clearly displayed with a full description. Technicians can also display the fault code information in many alternative languages in one click.
Two routes are possible to resolve the trouble code: A search for a solution using Google, or by using the Launch Guided Diagnosis function, powered by HaynesPRO.
The Launch Guided Diagnostic function is fully integrated in the Launch PRO5 Plus software. It will guide the user from reading the DTC, to step-by-step testing of all relevant components, leading to a final solution. This method will save technicians time and improve efficiency dramatically.
The PRO 5 Plus comes with a two-year warranty, two-year software package and a one-year subscription to the Electronics module.
'Euro' denotes the European Pro 5 and 'Plus' refers to Launch UK's exclusive specification with 64 GB of storage and HaynesPro.