Infinity synergies to support European growth of Eternity brand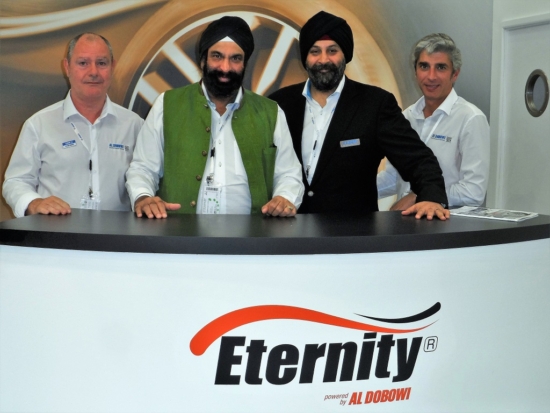 Al Dobowi presents Italian, European strategies
The Al Dobowi Group has discussed its strategies for the support of its Infinity and Eternity brands in Europe. The Infinity brand has been present in the European market for more than ten years; it is the brand with which Al Dobowi has established itself in Europe. The Dubai based group embellishes its offer with exclusive distribution agreements and continuous investments to increase the popularity of the brand. In an interview with Tyrepress sister site PneusNews.it, Al Dobowi's European managers explains how the group's partners in Europe have supported its brands so far, and what its future plans are on the continent. "We want to further accelerate the Eternity project across Europe," said Riccardo Costa, general manager of Al Dobowi Europe.
"To support a rapid expansion of market shares, we have already introduced the all-season range this month, which will be expanded in the course of 2021." Costa is determined to pursue Al Dobowi's aims for a "widespread distribution with its partners throughout Europe" of the two brands.
As for Italy and Switzerland, the country manager Vittorio Ruggiero explains that the Eternity project will continue to be developed with existing customers, but that new distributors will also be included for this brand. "The Infinity brand, on the other hand, explains Vittorio Ruggiero, is already successfully managed by the three distributors: Gexpo in the north center, DPM and Palmeri Pneumatici in the south center, and the Driver Group for their network of affiliated dealers."
"For the Eternity brand," continues the head of the Italian market, "at the moment, we work with two distributors in the centre-south: Gomma Service and Duca Gomme. Now, however, in order to ensure coverage of the entire national territory, we will direct our efforts in the search for new partners."
"Often," adds Ruggiero, "brands from Asia that enter the European market decide a sales strategy in a non-disciplined way, focusing on the price, in order to achieve an exceptional initial exploit in terms of sales. Later, however, if companies do not have the ability to develop a strategy and, above all, to create a sense of ownership of the brand for the sector's entrepreneurs, this risks equally dizzying collapses. Our goal is to sell the right quantities in the various countries, but also to share in a qualitative project.
"In Italy, in particular, we have created a synergy between our customers for Infinity, which provides for quick comparisons and equally quick decisions, where opportunities or situations of market changes arise. This is the fundamental point, which totally differentiates us from other similar brands: to have control of the market and to be able to compare quickly to make decisions. I am convinced that this, in the medium to long term, can be a winning strategy."
The same strategy is confirmed by Riccardo Costa also for the rest of Europe: "In the coming months, we will select and activate new commercial partners for the Infinity and Eternity brands in Europe, in order to create an optimal distribution network, which can maximize efforts of the brand and the production itself."
"The Al Dobowi Group, in the last year, has grown in the European market in terms of share and reputation for reliability," concluded Costa. "This was possible thanks to our customers and the excellent work of the European team."
"We really have to thank them all, for the trust they have placed in us, continuing the collaborative relationship which for many is now ten years old," said Ruggiero. "In Italy, the customers Gexpo, DPM, Palmeri Pneumatici, GommaService, Duca Gomme and Pneusgomme KR supported us and convinced us of the opportunity to declare what the Group's intentions and strategies will be for 2021."
"A further thanks goes to the Driver Italia Spa Group, with which we have undertaken a path of collaboration as partner suppliers," continues Ruggiero. "The work with the Driver Group has certainly enriched the commercial relationship with contents and comparisons, which will evolve into future developments, which are positive and profitable for both companies."