Michelin to pursue sustainable motorsport despite Formula E exit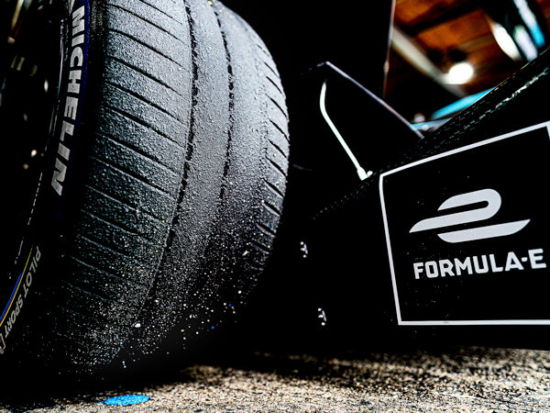 Michelin motorsport director Matthieu Bonardel has given his reaction to the announcement of a changing of the guard in the world's premier battery-powered single-seater racing series. Despite Hankook's move to replace Michelin as Formula E tyre supplier after the 2021/2022 season, the French manufacturer continues to believe that "sporting competition and sustainable mobility are inextricably linked." Michelin was the tyre inaugural supplier to Formula E, which began in 2014/15, and has actively shaped the series as exclusive tyre partner ever since.
"Michelin is proud of its pioneering role as a founding partner of the FIA ​​Formula E championship," Bonardel continued. "We have made a major contribution to the success of the discipline, which today is based on the commitment of ten automobile manufacturers."
While this is something of a valedictory response, the timeframe of the tyre change means that there is quite a lot of track left before the chequered flag. Michelin has therefore clarified that it will remain closely connected to Formula E until 2022, before Hankook begins its tenure as Formula E tyre supplier "in accordance with the FIA ​​decision." But clearly the time is ripe for Michelin to develop its relationship with other "sustainable" motorsport ventures. The tyre maker said that it wants to continue to pursue its strategic vision of complete sustainability in motorsport. Its other partnerships and activities include "MissionH24", in which hydrogen is to be established in endurance racing, and the MotoE championship for purely electric motorcycles, organised as part of MotoGP.
Six seasons and a tyre change
In its six seasons, Michelin states that it used Formula E as an innovation laboratory. Three generations of the Michelin Pilot Sport tyre were developed for the series, beginning with the Pilot Sport EV. Recognised for its longevity and versatility, the tyre enabled a significant reduction in the number of tyres needed to complete races.
At the start of the 2016/2017 season the Michelin Pilot Sport EV2 was introduced, an advanced version of the original tyre offering a significant improvement in energy efficiency. The third and current generation of the Michelin Pilot Sport for Formula E reduces raw material consumption by more than 9kg per set compared to the original model. Michelin has supplied all teams with the lightweight tyre for the past two seasons. This sort of development in motorsport is a test of tyre manufacturers' ability to supply improved products without compromise, as grip performance, duration of use, and energy efficiency must remain high. Such technological advances are now incorporated into production Michelin road tyres. The transfer of technology was further facilitated by the use of 18-inch tyres in Formula E. This example is being followed by higher-profile heritage motorsport series, such as the pinnacle of single-seater racing, Formula 1.