BBS wheel manufacturing operations could continue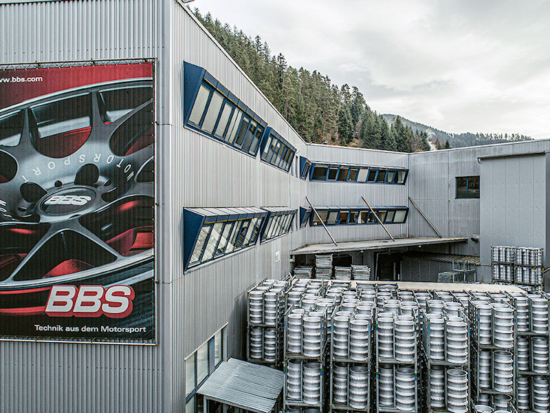 BBS's provisional administrator, Thomas Oberle, as provisional insolvency administrator, has clarified that there are not "structural problems" at the firms two plants in Schiltach and Herbolzheim. And therefore, that was not the reason for the well-known wheel brand's recent insolvency our German group publication Reifenpresse.de reported.
Rather, BBS GmbH's bankruptcy proceedings began last week at the behest of managing director Jürgen Klingelmeyer due to "impending insolvency in the coming months". The temporary insolvency administrator also encouraged the 525 employees concerned that it is too early to think about staff cuts. Nevertheless, there is a lack of liquidity to continue production: "We now have to see that operations continue", Thomas Oberle explained.
At the end of last week, after the insolvency application process started, BBS had made it clear in a message: "Nevertheless, the most important message we want to send you with this message is that production will continue in both BBS plants and your supply and delivery from BBS is guaranteed in any case!" The company also wanted to continue in the direction of the restructuring plans it has undertaken during the last two insolvencies under the administrator Thomas Oberle, who also looked after the two previous proceedings and is considered an insolvency and restructuring expert in the industry.
In a press interview, Oberle emphasized that it is currently too early state the causes of the latest problems at BBS: "After all, you have to say that 10 years have passed since the last bankruptcy." If there were structural problems with the wheel manufacturer, it couldn't have lasted that long, says Oberle. The current aim is to create liquidity to avert the impending insolvency, something BBS said itself, warning that an "unexpected loss of promised payments" loomed on the horizon. Accordingly, they were "forced" to file for bankruptcy filing with the Rottweil District Court. However, BBS did not specify what payments are involved. Instead, the wheel manufacturer had emphasized the "currently very difficult market environment in the automotive sector" is "among other things" the cause of the "financial imbalance" at BBS. And this situation was once again "adversely affected" by the Corona crisis.