Jinyu begins construction of Tay Ninh, Vietnam tyre factory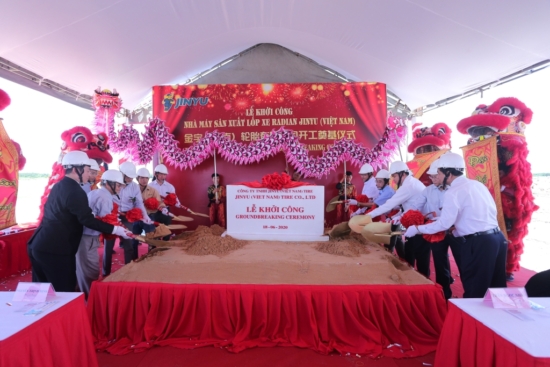 Jinyu Tire Group hosted the groundbreaking ceremony of Jinyu (Vietnam) Tire Company Ltd's 2 million tyre a year factory in Phuoc Dong Industrial Park, Tay Ninh Province, Vietnam on 18 June 2020. Local industrial park leaders as well as customer, supplier and construction representatives attended on the behalf of Jinyu Tire Group partners in light of the Covid pandemic.
Li Hongyun, representative of Jinyu Vietnam Project, said that after the completion of the first phase of the project, the annual production capacity will be 2 million tyres. Then Jinyu Tire Group will take "further steps to expand its global production capacity, promoting overseas market development [and] strengthening international competitiveness"
According to the company, the factory will be "based on the most advanced design concepts in the tyre industry, utilizing the overall goal of digitalization, intelligence and lean manufacturing. It will also incorporate unmanned automation and intelligence in warehouse management, logistics and other processes including the application of advanced technology such as the internet of things, big data, fully-automatic robots, a fully-automatic elevated stereoscopic warehouse, and more." Indeed, through the digital design of the entire manufacturing processes, some of the typical manual work by employees will be managed online to reduce labour costs, improve work efficiency, and will utilize information practices to carry out factory operations and decision-making.
In December 2018 Jinyu announced that it was entering into a joint venture with Cooper Tire in the same Vietnam business park.