Schaeffler postpones Blackpool Repxpert Academy LIVE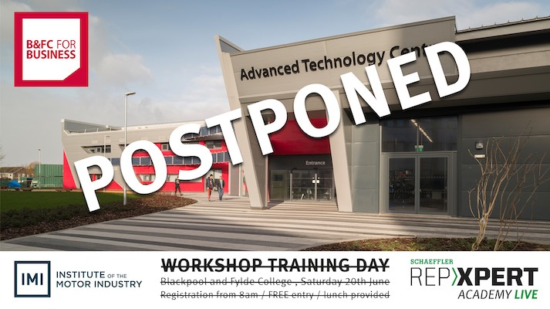 Schaeffler has postponed the Repxpert Academy LIVE event planned for June 20th at Blackpool & The Fylde College. "The current restrictions on social distancing and mass gatherings mean that we have had to put all Repxpert Academy LIVE events on hold for now, so we are looking at other ways to help garages get 'back on track'" explained Schaeffler Training Manager, Alistair Mason.
"This includes the creation of a brand new online training platform, plus the distribution of Schaeffler 'back on track' support packs to help workshops show they are well prepared and ready to deal with the backlog of MOT testing and urgent vehicle repairs that have built up over the last few weeks."
The Schaeffler 'Back on Track' support pack will contain essential health and safety items such as social distancing tape and floor sticker, mask, gloves, hand sanitiser and hi-vis vest etc., all designed to help technicians maintain the 2m social distancing guidelines in the workshop and reception.
Schaeffler (UK) managing director, Nigel Morgan, is behind the plan; "We are really keen to continue engaging with professional technicians at this time as, despite the negative impact the restrictions are having on all businesses, we know that they will be looking for ways to stay ahead of the game for when things start to get back to normal.
"Schaeffler remains open and able to deliver parts, and we want to help garages to also get 'back on track', working safely to provide essential repairs and maintainance for key worker vehicles."
Schaeffler continues to provide updates via both the automotive trade media and on Repxpert, Schaeffler's workshop portal.