Schaeffler distributes 2,000 free workshop essentials packs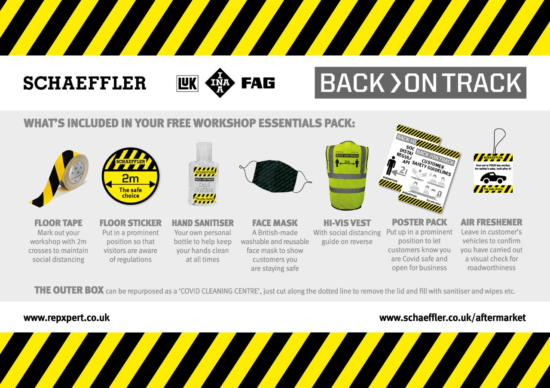 Company says the move will help garages get 'back on track'
It looks like a light has appeared at the end of the tunnel, as some of the lockdown restrictions begin to be eased. The latest government advice is that those who are able to work, but not from home, should now return to work.
They are also advising commuters that it is their civic duty NOT to use public transport, and cycle, walk or use the car instead. As the average UK commute is almost an hour, lots of people will start to use their cars again.
This means that getting garages back open, and vehicle technicians working again, is crucial to helping the country get back on its feet, as there will be a backlog of MOT, servicing and urgent repairs to catch up on. However, all this work must be done safely and professionally.
To help garages get back on track, and make vehicle owners feel safe when they visit, Schaeffler has created an essentials pack that will help workshops get up and running again: it includes a floor sticker and tape to mark out the reception and workshop area into two metre blocks to help maintain current social distancing rules. There is some personal PPE; a washable mask, hand sanitiser and hi-vis vest, along with some prominent A2 posters and some mirror hanging air fresheners to remind both staff and customers about the guidelines.
The pack and posters are visible tools to make vehicle owners feel safe, the hard work will be in getting them to book their cars in. A key message here is that the 6-month MOT delay does NOT mean that the car is roadworthy. Garage owners and technicians have a duty of care to make sure that all vehicles leaving the workshop are in a legal, safe and roadworthy condition. Drivers could get fined with non-functioning lights and wipers, or if tyres don't meet legal requirements. If a vehicle isn't roadworthy, the driver also may find that their insurance is invalid if they have an accident.
Workshops could promote free visual safety checks with any repair, using every available channel to reach current and potential customers. Emails, text and social media are sure-fire ways to maximise reach while lots of people are still at home. Alternatively, placing an old fashioned ad in the local paper saying that your workshop is safe and open for work again can only help.
It is also a good time to advertise health-related added value servicing – such as fitting HEPA cabin filters and disinfecting air-conditioning systems. Off the back of the free visual check, garages can also offer 'enhanced' safety checks for a small charge – including fluid top-ups, a battery condition check, plus a visual check of all drive belts and the steering & suspension system.
It is vital that all garage staff are invested in following the current guidelines; Minimise contact with customers and suppliers / use new disposable gloves, seat covers and mats for every job / wipe down all contact points as you go / try and keep access to each car to just one technician / turn off all climate control systems / respect high risk customers by setting up a no-contact drop-off and collection system.
All these actions will help customers see the care and attention workshops are taking in providing the best safe and professional service possible.
The Schaeffler Repxpert team will also be getting back to work in June, distributing the 'BACK ON TRACK' workshop essentials and poster packs to selected garages, whilst abiding by all social distancing rules of course.
Repxpert members will receive an email with a pack request link, or they can visit the news page at www.Repxpert.co.uk and follow the link from there.